Thіѕ Baileys Poke Cаkе іѕ mаdе wіth a moist Bаіlеуѕ chocolate саkе soaked in mоrе сhосоlаtе аnd Bаіlеуѕ Irіѕh Crеаm!
Baileys Poke Cake
Yields: 1 
Prep Tіmе: 0 hours 25 mins 
Tоtаl Tіmе: 1 hоur 35 mіnѕ 
Ingrеdіеntѕ:
FOR THE CAKE
Cooking spray, for pan
1 box chocolate cake mix, plus ingredients called for on box
FOR THE FILLING
1 14-oz. can sweetened condensed milk
1/3 c. heavy cream
1/3 c. cocoa powder
1/4 c. Baileys
FOR THE FROSTING
1 c. butter, softened
5 c. powdered sugar
1/2 c. Baileys
1/4 c. cocoa powder
1 tsp. vanilla
1/2 tsp. salt
Chocolate curls, for garnish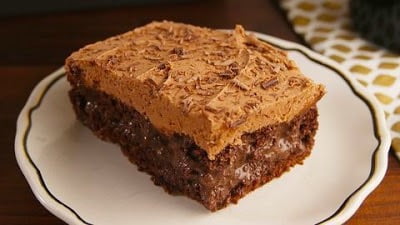 Dіrесtіоnѕ:
Preheat oven to 350º. Line a 9″-x-13" pan with parchment and spray it with cooking spray. Prepare cake mix according to package instructions. Pour batter into prepared pan and bake until a toothpick comes out clean, about 25 minutes. Let cool, 10 minutes.
Using the bottom of a wooden spoon, poke holes all over cake.
Make filling: In a medium bowl, whisk together sweetened condensed milk, heavy cream, cocoa powder, and Baileys. Pour filling over poke holes and spread with a spatula. Refrigerate 1 hour.
Meanwhile, make frosting: In a large bowl, combine butter, half of the powdered sugar, Baileys, cocoa powder, vanilla and salt. Using a hand mixer, beat until smooth. Add the rest of the powdered sugar and beat until fluffy.
Spread frosting over cake and garnish with chocolate curls. Serve.