Beef shank, also know as beef shin, renowned for its exceptionally low fat content, contains merely about one ounce of fat per pound. Its lean nature is evident by the absence of marbling, and the scant fat present manifests as sporadic, delicate white patches delicately spread across the surface of the meat.
With its remarkably low fat content, beef shank emerges as an ideal option for individuals pursuing a high-protein, low-calorie dietary regimen. This characteristic allows health-conscious individuals to relish a flavorful meat choice while keeping their calorie intake in check.
25 Easy and Delicious Beef Shank Recipes
Calling all meat lovers and culinary adventurers! Get ready to embark on a mouthwatering journey with our Beef Shank Bonanza, a collection of 25 easy and delicious recipes that will have your taste buds dancing with joy. Whether you're a seasoned chef or a kitchen novice, these recipes will make you the star of every mealtime.
With beef shank taking center stage, prepare yourself for a flavor explosion that will leave you craving more. So, tie on your apron, grab your cooking utensils, and let's dive into a world of beefy goodness that will have your friends and family begging for seconds!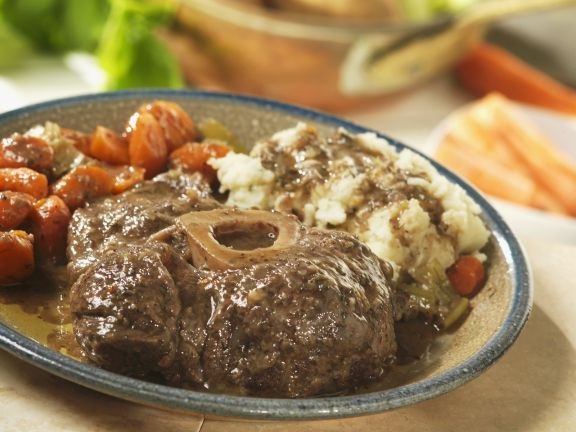 This recipe appears to be a hearty and comforting dish. The recipe features beef shank, a flavorful and tender cut of meat, which is braised to perfection. The addition of mashed potatoes and carrots provides a classic combination of starchy and sweet flavors that complement the beef. The dish seems to be ideal for colder days or when you're in the mood for a satisfying and nourishing meal. Overall, it promises a delightful and satisfying dining experience.
This delicious dish features beef shin steak that has been cooked slowly in a flavorful mixture of aromatics, beef stock, and Worcestershire sauce until it becomes incredibly tender and can easily be pulled apart with a fork. To enhance its taste even more, it is served on a bed of peas and asparagus that have been cooked in a combination of crispy bacon and melted butter.
This incredible Slow Cooker Chinese Braised Beef dish is bursting with deliciousness! It features a cut of beef shin, which is cooked slowly with a mixture of soy sauce, five spice, garlic, and ginger until it becomes incredibly tender and juicy. You can enjoy it by serving it over rice or even cauliflower rice, if you prefer a healthier option.
This wonderful recipe for Simple Beef Shin and Ale Stew involves cooking the beef at a low temperature for a long time, resulting in incredibly tender and delicious meat that practically melts in your mouth. It's the ideal dinner for a relaxed winter weekend when you want something comforting and satisfying.
I really enjoy eating this dish alongside smooth and creamy mashed potatoes and lightly steamed broccoli. Any type of steamed green vegetables would complement it wonderfully. You could also consider serving it with boiled potatoes, rice, or even a simple slice of fresh, crusty bread, and it would taste absolutely delightful.
The beef used in this dish is cut into very thin slices, almost like paper. Then, it is soaked in soy sauce that has been mixed with delightful sweet spices such as star anise, Sichuan peppercorns, and cinnamon. These spices give the beef an incredibly irresistible and addictive flavor that you won't be able to resist!
When it comes to preparing this recipe, you don't have to put in much effort. It's one of those recipes where you simply throw in the ingredients, let them boil, and forget about it. This is perfect for those times when you're feeling a bit lazy, just like me sometimes (haha!).
However, the most crucial part of this dish is to ensure that you have a high-quality boneless beef shank. It's important to choose a piece of meat that is really nice and tender to make the dish turn out delicious.
I cooked this dish yesterday, and it turned out to be really yummy. The stew was packed with lots of different flavors, and the dumplings were incredibly tasty.
This recipe for slow-cooked beef shin stew is made by simmering the beef for a long time, which makes it tender and brings out its rich and delicious taste. It's the kind of food that makes you feel warm and cozy inside. To make it even more delightful, it's served with soft and fluffy Parmesan dumplings and smooth mashed potatoes.
This incredible Slow Cooked Beef Shin Ragù recipe is a true delight when mixed with pasta, and the best part is that you can easily freeze it, making it perfect for cooking large quantities.
To make this dish, you start by simmering pieces of beef shank in a flavorful sauce made from red wine and tomatoes. The beef becomes so tender that it easily shreds apart. Then, you mix the shredded beef with wide pappardelle noodles, which cling beautifully to the meat. Finally, you top it off with a generous amount of freshly grated pecorino cheese. How can you resist such a combination? It's an ideal choice for preparing in advance because when it's time for dinner, all you have to do is cook some pasta and toss it with the sauce.
Furthermore, this recipe is fantastic for freezing. So, why not make a large batch of it? Once you've tasted it and fallen in love like I did, you'll want to double the sauce recipe without hesitation! Then, you can portion it out and freeze it, ensuring that future you will have a delightful treat waiting at the end of a busy day.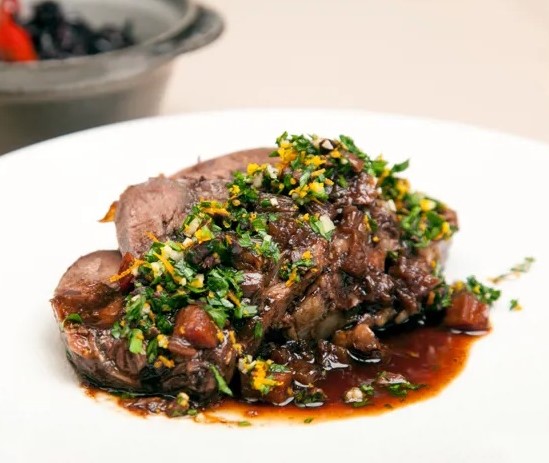 You'll be amazed with this incredible recipe. The slow-cooked beef shin is tender and succulent, infused with aromatic garlic and citrusy orange zest. The sauce, enriched with the natural juices from the beef, adds a burst of freshness with vibrant parsley. This dish promises to be a delightful and comforting meal, with its robust and harmonious blend of ingredients. Whether you're looking to impress guests or indulge in a satisfying dinner, this recipe is sure to leave a lasting impression.
The beef shanks, which are large pieces of meat from the leg of the cow, are cooked slowly in a delicious tomato sauce that is full of flavor. This slow cooking process makes the meat incredibly tender, so tender that it easily falls apart when you take a bite.
The tomato sauce adds a rich and savory taste to the dish, making it even more enjoyable. If you're searching for a satisfying dinner option that is both tasty and filling, you've found the perfect recipe. It will leave you wanting more with every mouthful.
The Braised Osso Buco recipe from Veena Azmanov is an absolute delight for anyone looking to indulge in a hearty and flavorful meal. From the moment you start cooking, the aromas wafting through the kitchen will make your mouth water in anticipation. The recipe provides clear and detailed instructions, ensuring that even novice chefs can successfully recreate this Italian classic.
The tender and succulent beef shanks, braised to perfection in a rich and savory sauce, are the true stars of the dish. The addition of aromatic vegetables, herbs, and a splash of white wine elevates the flavors to new heights. The osso buco is served over a bed of creamy risotto, which absorbs the flavors of the braising liquid, resulting in a luxurious and comforting combination. With its impeccable presentation and robust taste, this Braised Osso Buco recipe is guaranteed to impress both family and guests alike.
Oh boy, let me tell you about this osso buco recipe I stumbled upon! First of all, let's talk about the aroma that fills your kitchen as you start cooking this dish. It's like a symphony of fragrances dancing in the air, making your mouth water in anticipation.
The recipe calls for braising the meat until it's so tender, it practically falls off the bone with the lightest touch. And let's not forget about that rich and velvety sauce that accompanies it. It's packed with flavors from the red wine, tomatoes, and aromatic herbs, creating a party in your mouth with every bite.
The gremolata sprinkled on top adds a burst of freshness and zest that takes this dish to a whole new level. Trust me, once you try this osso buco recipe, you'll be transported to a cozy Italian trattoria, where every forkful is a delicious adventure. So grab your apron, put on some Italian music, and get ready for a culinary journey that will leave you wanting more. Buon appetito!
Another lip-smacking recipe that will make your taste buds dance with joy. It's Gill Meller's Whole Beef Shin with Red Wine, Carrots, and Little Onions, and let me tell you, it's a flavor-packed masterpiece!
This dish takes tender beef shin and transforms it into a succulent, melt-in-your-mouth delight. The secret? A generous splash of red wine that infuses the meat with rich, savory notes. The carrots and little onions add a touch of sweetness and a burst of vibrant colors to the plate.
What I love about this recipe is its simplicity. It's like Gill Meller waved a magic wand and turned humble ingredients into a culinary work of art. The slow cooking process allows the flavors to develop and marry together, creating a heavenly symphony of taste.
The beef shin becomes so tender that it practically falls apart with a gentle prod of your fork. The sauce, enriched with the essence of red wine, coats each morsel, leaving you craving for more. The carrots and little onions, soft and caramelized, provide a delightful contrast in texture.
One bite of this dish is enough to transport you to food heaven. It's the kind of meal that warms your soul and leaves you with a contented smile on your face. So, gather your ingredients, pour yourself a glass of red wine, and get ready to indulge in Gill Meller's Whole Beef Shin with Red Wine, Carrots, and Little Onions. Trust me, your taste buds will thank you for it!
Prepare your taste buds for an epic flavor journey with this Smoked Beef Shank recipe! Bursting with smoky goodness and succulent tenderness, this dish is a carnivore's dream come true. As soon as you lay your eyes on the glistening, perfectly charred beef shank, you know you're in for a treat.
The magic begins as the rich aromas waft through the air, drawing you closer to the irresistible feast that awaits. Once you take that first bite, the tender meat practically melts in your mouth, revealing layers of smoky complexity that leave you craving more. With a touch of spice and a hint of sweetness, each savory morsel transports you to barbecue heaven.
Whether you're a seasoned pitmaster or a backyard grilling enthusiast, this recipe is a guaranteed crowd-pleaser that will have your friends and family begging for seconds. So fire up the grill, grab your tongs, and get ready to indulge in a smokin' hot delight that will leave you smacking your lips and reaching for seconds!
Let me tell you, this recipe is a flavor explosion that will make your taste buds dance with joy!
First things first, the star of the show: beef shanks. These meaty beauties were treated with utmost care and respect. Tender and succulent, they practically fell off the bone. But here's the twist, my friends—these bad boys were lovingly smoked, adding an irresistible depth of smokiness that will have you swooning from the first bite.
Now, let's talk about the braising liquid, shall we? Beer, glorious beer! The recipe calls for a rich, malty brew that infuses the beef with its hoppy goodness. It adds a unique touch that elevates the dish to a whole new level.
This is a luxurious and flavorful dinner option that is cooked slowly to perfection. The dish is packed with succulent and meaty goodness, making it a true delight for your taste buds. It's like a pot roast on a whole new level of deliciousness. Whether you're planning a cozy Sunday supper or an elegant sit-down dinner, preparing this dish will earn you heartfelt gratitude from your guests.
Not only are these beef shanks divine right after cooking, but they become even more incredible when enjoyed the following day. The flavors meld together beautifully, creating an irresistible and indulgent treat that will leave you wanting more.
Beef shanks are a type of meat that works really well when cooked slowly in a crockpot. This recipe for Slow Cooker Garlic Herb Beef Shanks is simple to make and provides a warm and satisfying meal. The end result is incredibly tender beef that easily separates into delicious pieces. If you prefer, you can also prepare this recipe using an Instant Pot, and it can be adjusted to fit low-carb, paleo, and Whole30 diets.
Are you searching for a simple yet impressive recipe for veal shanks? These braised veal shanks are incredibly tender, full of meat, and absolutely delicious. They are cooked slowly until the meat falls off the bone, creating a mouthwatering dish.
Packed with flavors from garlic, red wine, and vegetables, this indulgent veal stew is best served over creamy mashed potatoes, polenta, or egg noodles. What makes cross-cut veal shanks even more special is the incredibly rich and delightful bone marrow hidden inside each shank. Meat lovers will be delighted by this dish.
Chinese-style Braised Beef Shank, also known as Jiang Niu Rou, is a beloved and traditional dish enjoyed by many in China. It showcases succulent beef shank that has been thinly sliced, resulting in tender and flavorful pieces. These delectable beef slices are commonly served as appetizers, either chilled or at room temperature.
There is a popular misconception surrounding beef shank that suggests it requires lengthy cooking times. However, with this Chinese-style Jiang Niu Rou recipe, you can achieve a wonderfully juicy and mouthwatering beef shank in just 20 minutes.
Indulge in a delightful and flavorful stew that is cooked slowly to perfection. This delicious dish is made with tender beef shanks and rich marrow bones, seasoned with a special homemade spice blend called nihari masala. As it simmers, the ghee (clarified butter) separates, creating a smooth and incredibly appetizing Nihari. We recommend enjoying it with freshly baked naan for a satisfying meal.
These tender beef shanks are served over a bed of creamy gouda polenta that'll make you weak in the knees. The combination of the spicy kick from the sriracha and the smoothness of the gouda polenta creates a culinary masterpiece that'll have you coming back for seconds. Trust me, you won't be able to resist this irresistible dish!
Truly authentic and has a rich flavor that is worth the time and effort it takes to make. The process is quite lengthy, but the end result is incredibly satisfying. This soup is prepared by slow cooking and simmering the ingredients, resulting in a dish that is incredibly comforting and delicious. By following the step-by-step tutorial, you can ensure that your pho turns out perfect every single time you make it. It's especially great if you have some beef shank that you want to use up, as it adds a lot of flavor to the broth.
Get ready to be blown away by the incredible flavors of the Chinese Braised Beef Shank recipe! This dish takes tender beef shanks to a whole new level of deliciousness. The recipe brilliantly combines aromatic spices and savory ingredients, resulting in a taste that will leave you craving more.
What sets this recipe apart is the use of an Instant Pot, which ensures the beef becomes unbelievably tender and infused with all the mouthwatering flavors. The cooking process is made incredibly simple, making it accessible for home cooks of all skill levels. With each bite, you'll be transported to a culinary paradise. Don't miss out on this mesmerizing beef shank recipe – it's a true winner in every sense!
Let me tell you about the fantastic recipe I tried from Pat LaFrieda's website! It's all about the whole shank osso buco, and trust me, it's a winner. Tender meat, rich flavors, and a delightful tomato-based sauce make this dish a must-try.
The shank is cooked to perfection, falling off the bone with each bite. And don't even get me started on the aroma that fills your kitchen while it's simmering away. It's like heaven in a pot! The recipe is straightforward and easy to follow, so even if you're not a pro chef, you can still impress your taste buds with this scrumptious osso buco.
Get ready for a meaty adventure with this finger-licking recipe for Whole Roasted Beef Shank! It's like a mouthwatering expedition that takes your taste buds on a rollercoaster ride of flavors. The tender beef shank, generously seasoned with aromatic spices, is slow-cooked to perfection, resulting in a dish that's bursting with juiciness and succulence.
This flavorful and satisfying variation of the beloved Italian dish osso buco is made with beef shank instead of veal. By using beef, you get all the same deliciousness while saving a lot of money. The dish is served on a bed of soft polenta, making it a perfect choice for a comforting and affordable meal during colder months.
Beef Shank Bonanza - 25 Easy and Delicious Recipes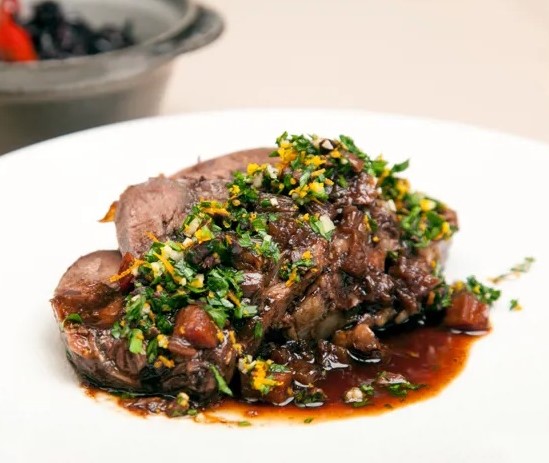 Get ready to embark on a mouthwatering journey with our Beef Shank Bonanza, a collection of 25 easy and delicious recipes that will have your taste buds dancing with joy
Ingredients
Beef Shank with Mashed Potatoes and Carrots
Braised Beef Shin with Asparagus, Peas and Bacon
Slow Cooker Chinese Braised Beef
Simple Beef Shin and Ale Stew
Chinese Spiced Braised Beef Shin
Beef Shin Stew with Parmesan Dumplings
Slow Cooked Beef Shin Ragù
Braised Beef Shin with Gremolada Sauce
Tender and Delicious Braised Beef Shank
Braised Osso Buco
Slow Cooker Osso Buco
Whole Beef Shin with Red Wine, Carrots and Little Onions
Smoked Beef Shank
Smoked Beer-Braised Beef Shanks
Red Wine and Garlic Braised Beef Shank
Tender Slow Cooker Garlic Herb Beef Shanks
Simple Savory Garlic Wine Braised Veal Shanks
Braised Beef Shank Chinese Style – Jiang Niu Rou
Nihari (Pakistani Beef Stew )
Sriracha Stout Braised Beef Shanks over Gouda Polenta
Homemade Beef Pho
Instant Pot Chinese Braised Beef Shank
Pat LaFrieda's Whole Shank Osso Buco
Whole Roasted Beef Shank
Beef Osso Buco (Braised Beef Shanks)
Instructions
Select your favorite recipe and click the link to open the recipe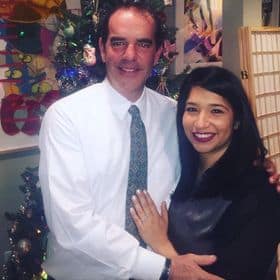 Welcome to Mariasskitchen.com! I'm Maria Tarrant, the proud owner and passionate curator of this website. As an avid lover of all things dessert, baking, and traveling, I've combined my passions to create a platform where I can share my culinary adventures and inspirations with you. From decadent cakes to scrumptious cookies, this website is a haven for dessert enthusiasts looking to explore the sweet side of life.
Join me on this delectable journey as I whip up mouthwatering recipes, offer baking tips and tricks, and take you along on my exciting travel escapades, discovering flavors from around the world. MariasSkitchen.com is a place where I pour my heart and soul into each post, hoping to ignite your own culinary passions and create unforgettable memories. So, grab a spoon, pack your bags, and let's embark on this extraordinary adventure together!