The chocolate dough is spread with a milk cream made from semolina and coconut flakes and covered with a delicate layer of chocolate – a vacation for the taste buds!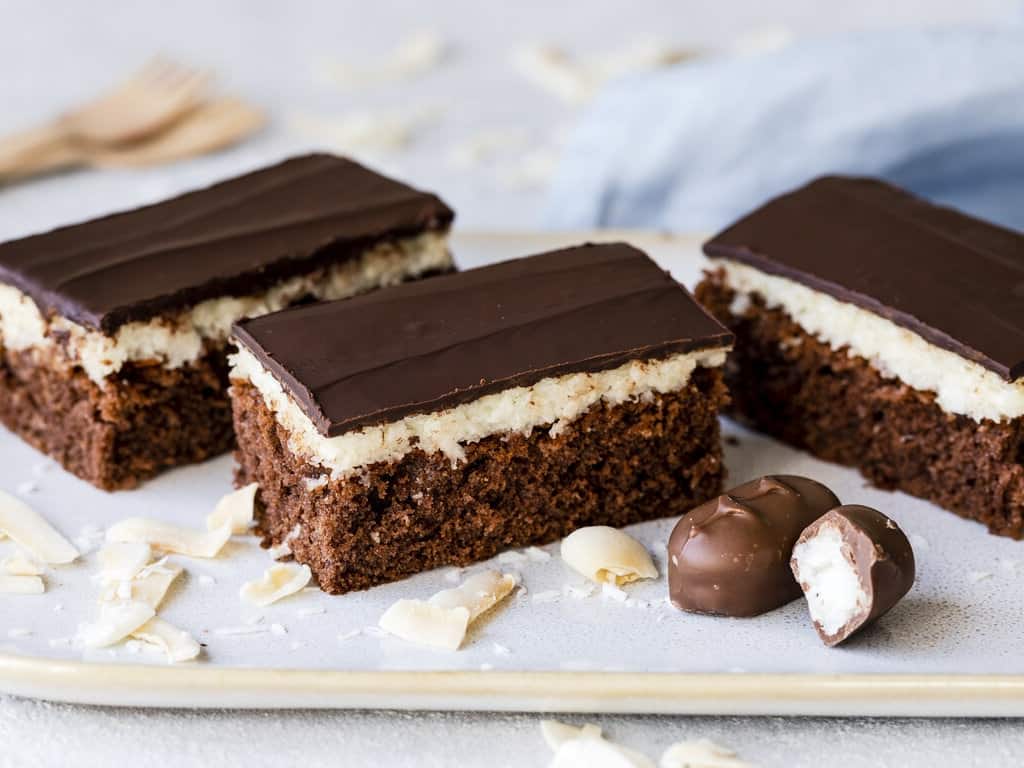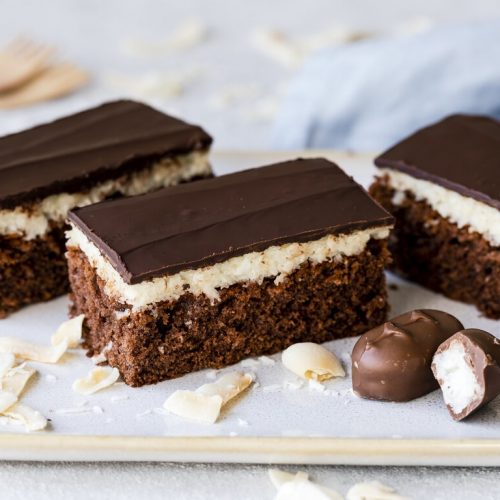 Print Recipe
Bounty Cake Recipe
Ingredients
FOR THE DOUGH:
250 g soft butter

200 g sugar

5 Eggs

250 g Flour

3 TSP. Baking powder

3 TBSP. Cocoa

4 TBSP. milk

some butter
FOR THE COATING:
500 ml milk

5 TABLESPOONS soft wheat semolina

200 g Butter

150 g Sugar

200 g Coconut flakes

200 g Dark chocolate coating
Instructions
Preheat oven to 180 degrees (convection oven: 160 degrees). Beat butter with sugar until fluffy. Gradually stir in the eggs. Mix flour with baking powder and cocoa powder and add to the batter with the milk. Mix well. Grease a baking pan (39 x 26 x 4 cm). Pour the dough into the pan and bake in the preheated oven for about 30 minutes. Allow to cool slightly.

Meanwhile, for the topping, boil milk with soft wheat semolina. Continue to simmer on medium heat until the mixture thickens. Remove saucepan from heat. Add butter, sugar, and shredded coconut to mixture and stir to combine. Pour coconut mixture onto baked dough and smooth out. Let cool.

For the icing, coarsely chop couverture and melt in a water bath. Pour couverture over cake and smooth with a spoon or palette knife. Allow to set, then cut the cake into pieces.