The perfect blondie is here for your family or a party! These chewy and delicious Butterscotch Chocolate Chip Blondies are loaded with the very best ingredients. They have mini marshmallows that melt right into the dough and make them even sweeter. These were a hit with our family over the holidays.
Butterscotch Chocolate Chip Blondies are a combo of our favorite flavors and desserts rolled into one amazing bar. They have the yumminess of butterscotch cookie, mixed with a chocolate chip Congo bar, then throw in a big handful of marshmallows to add sweet and chewy to the mix.
It's a bite of heaven when you sink your teeth into these Butterscotch Chocolate Chip Blondies. And there is really no way you can fail when making these. Just mix them all together and bake. Ovens vary, so cook until golden brown and set in the center. Great recipe for beginning cooks.
Years ago Nordstrom's department store used to sell a delicious bar in the Nordstrom's cafe called the Nordy Bar. Our mom remembers trying one, and our Butterscotch Chocolate Chip Blondies have a lot of those same flavors. Our homemade version might even be a little bit better.
We looked all over trying to get the right amount of ingredients combing so many random recipes and ideas. We think you will love the finished blondie
Butterscotch Chocolate Chip Blondies are so easy to store, and a great recipe that you can make ahead of time and freeze. We have had some in our fridge for the past 5 days in an airtight container.
We will share a little secret with you. We love to take them from the fridge and place them on a plate. Microwave them for about 30-40 seconds. YUM! It's like they just came out of the oven all over again.
These freeze well in a freezer bag or an airtight freezer container. Then you can easily pull them out and thaw when ready to serve. They will need to thaw for about 1 1/2 – 2 hours.
Buttеrѕсоtсh Chосоlаtе Chір Blоndіеѕ 
10 mіn Prер Tіmе  
25 min Cооk Tіmе  
35 min Tоtаl Tіmе  
Ingrеdіеntѕ:
1 сuр buttеr (ѕlіghtlу mеltеd)
1 3/4 сuрѕ brоwn ѕugаr
2 еggѕ
1 1/2 tеаѕрооnѕ vаnіllа
1 tеаѕрооn ѕаlt
1 tеаѕрооn bаkіng роwdеr
2 1/3 сuрѕ flоur
1 1/2 сuрѕ сhосоlаtе сhірѕ (divided)
1 1/2 сuрѕ buttеrѕсоtсh сhірѕ (dіvіdеd)
1 1/2 сuрѕ mini mаrѕhmаllоwѕ
Dіrесtіоnѕ:
Heat oven to 350 degrees and spray a 9 x 13 inch glass pan with non stick cooking spray.
In a large mixing bowl cream together the butter and brown sugar until creamy and fluffy.
Then beat in the eggs and vanilla until creamy.
Add in the salt, baking powder, flour, 3/4 cup chocolate chips, 3/4 cup butterscotch chips, and mini marshmallows. Mix just until combined well.
Spread the batter into the prepared 9 x 13 inch pan.
Sprinkle the remaining chocolate chips and butterscotch chips over the top.
Bake for 25-30 minutes or until golden brown and set in the center.
Cool for about 30 minutes before slicing.
---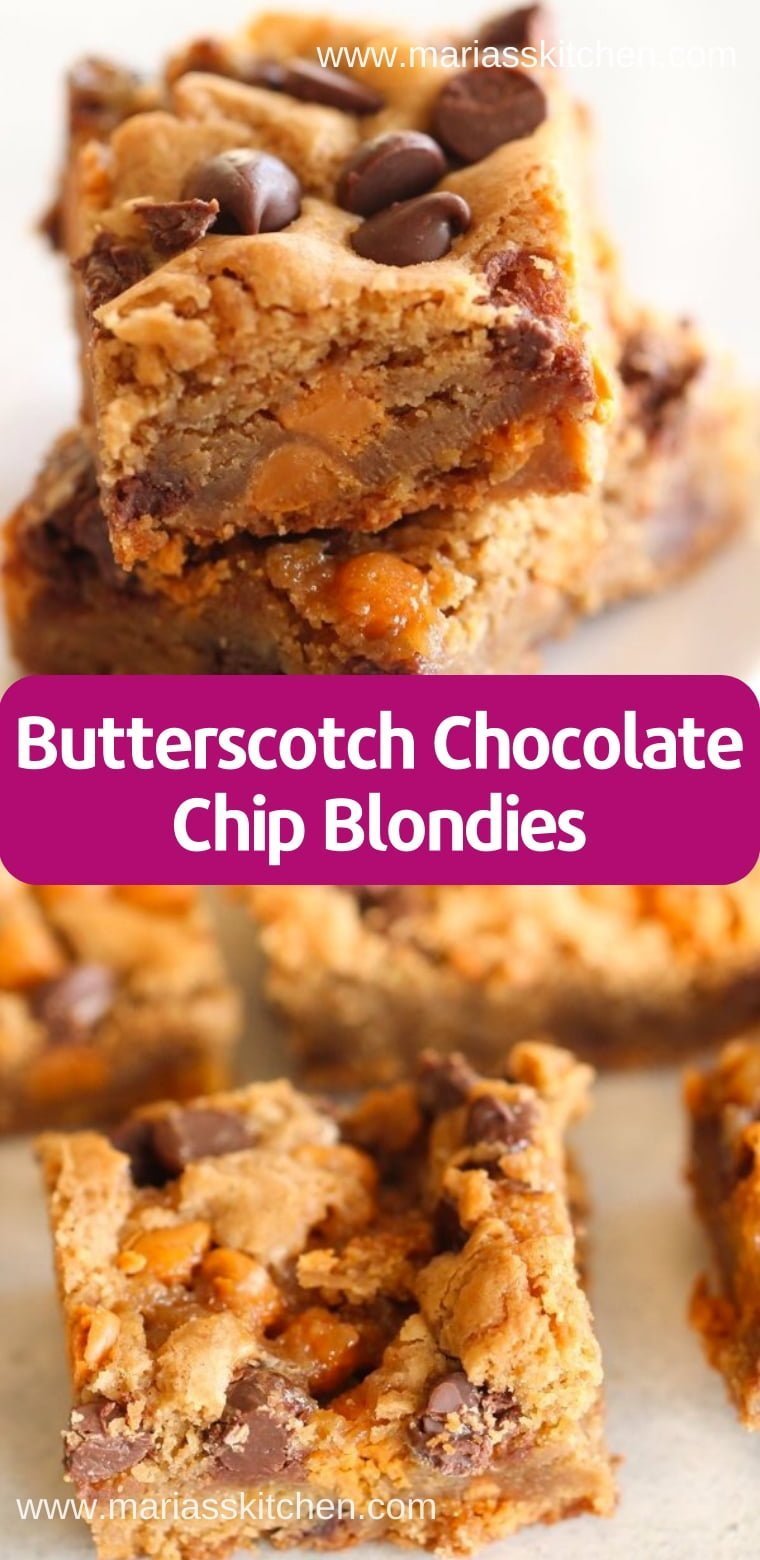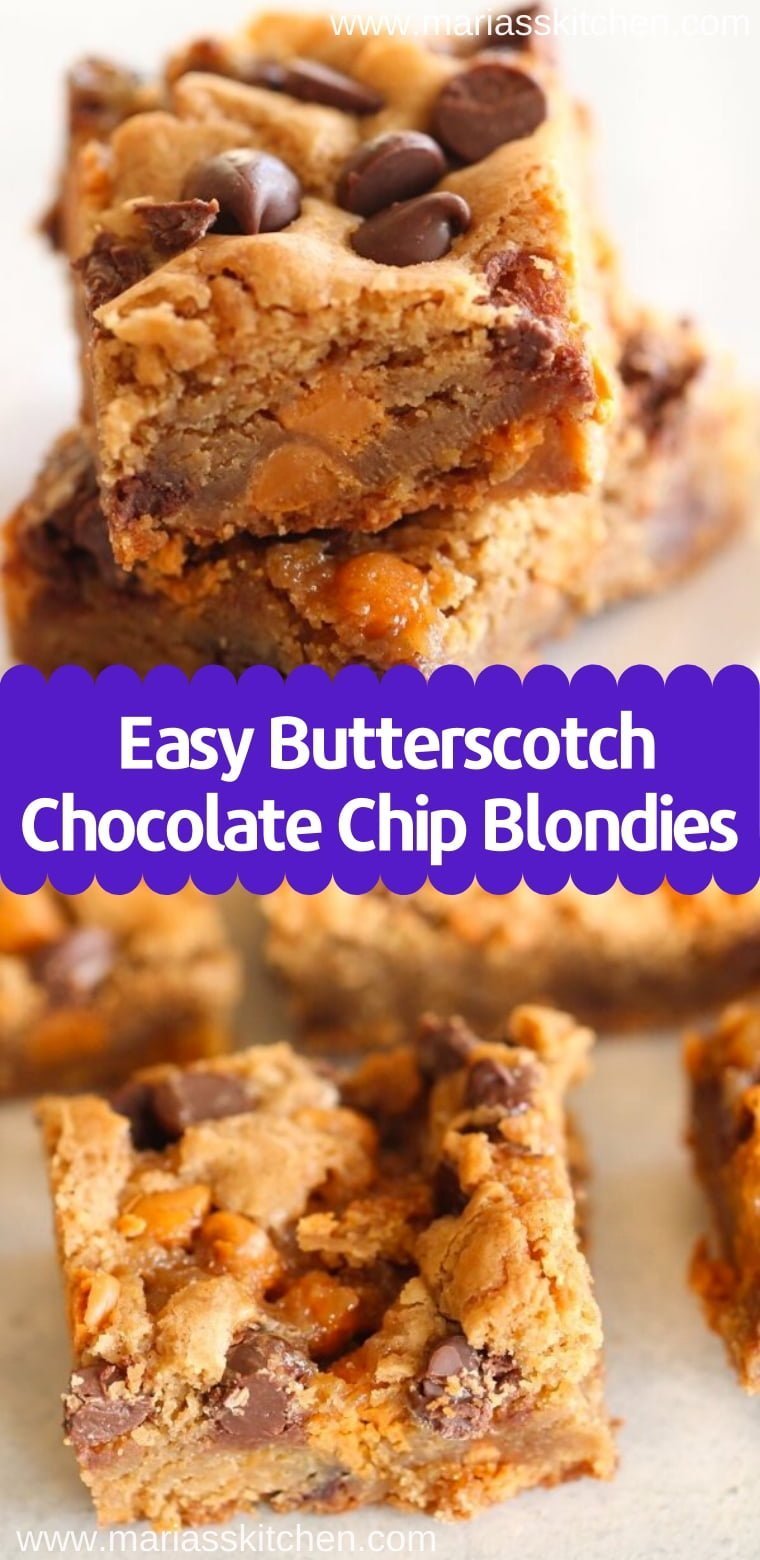 ---