A rich chocolate cake with a nutty cream cheese frosting.. The cake was moist & delicious! It's a nice recipe and you will love it! Everyone raved that it was delicious without being too rich or too sweet. It was also very easy to prepare.
I think it really feel better to put the chocolate chips inside the cake. And its not really a cheese cake its just more of a chocolate cake with amazing cream cheese frosting:)
Chocolate Cream Cheese Cake
Ingredients:
1 (15.25 ounce) Devil's Food Cake Mix
1 (3.4 ounce) instant chocolate pudding mix
3/4 cup hot water
3/4 cup vegetable oil
1 teaspoon vanilla
4 eggs
Filling:
1 (8 ounce) package cream cheese (softened)
1/2 cup sugar
1 egg
3/4 cup mini semi sweet chocolate chips
Frosting:
1/2 cup butter (softened to room temp)
4 Tablespoons cocoa
2-3 Tablespoons milk
1 teaspoon vanilla
3-4 cups powdered sugar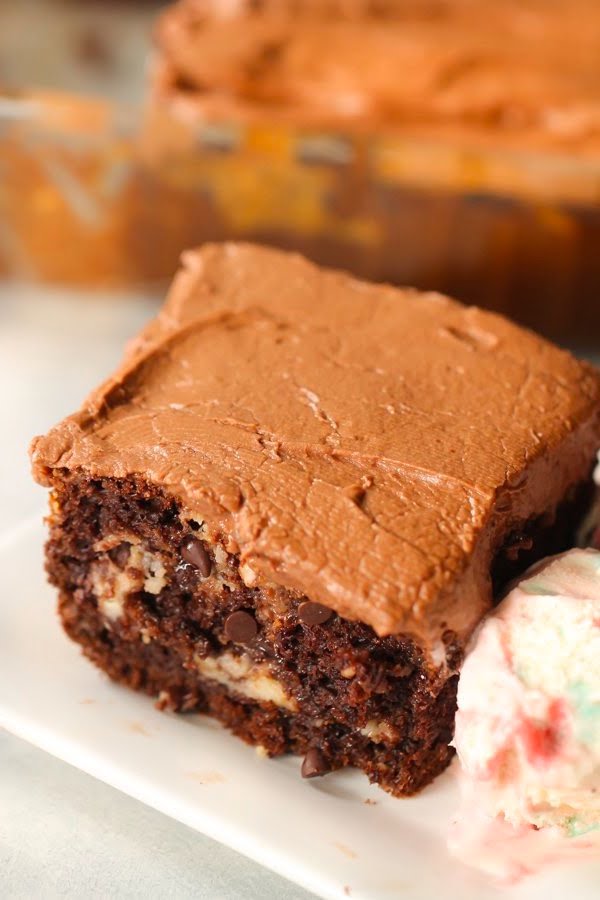 Dіrесtіоnѕ:
Directions:
Heat oven to 350 degrees. Lightly grease and flour the bottom only of a 9 x 13 inch glass baking dish.
In a large mixing bowl combine the cake mix, pudding mix, water, vegetable oil, vanilla, and eggs.
Mix on low for about 30 seconds, and then on medium speed for about 2 minutes.
Pour cake batter into prepared pan.
In another large mixing bowl, beat the cream cheese, sugar, and egg with hand mixer on medium speed until smooth and creamy.
Fold in the chocolate chips.
Spoon the cream cheese filling by tablespoonfuls over the batter.
Using a table knife, swirl the cream cheese batter back and forth, then turn the pan and swirl it in the opposite direction. When swirling the cream cheese batter, be sure it goes down into the cake batter, not just on the surface.
Bake for 35-40 minutes or until a toothpick inserted comes out clean.
Cool completely before frosting.
In a medium sized bowl, beat together the butter, cocoa, milk, vanilla, and powdered sugar until until creamy and well blended.
Frost the cooled cake.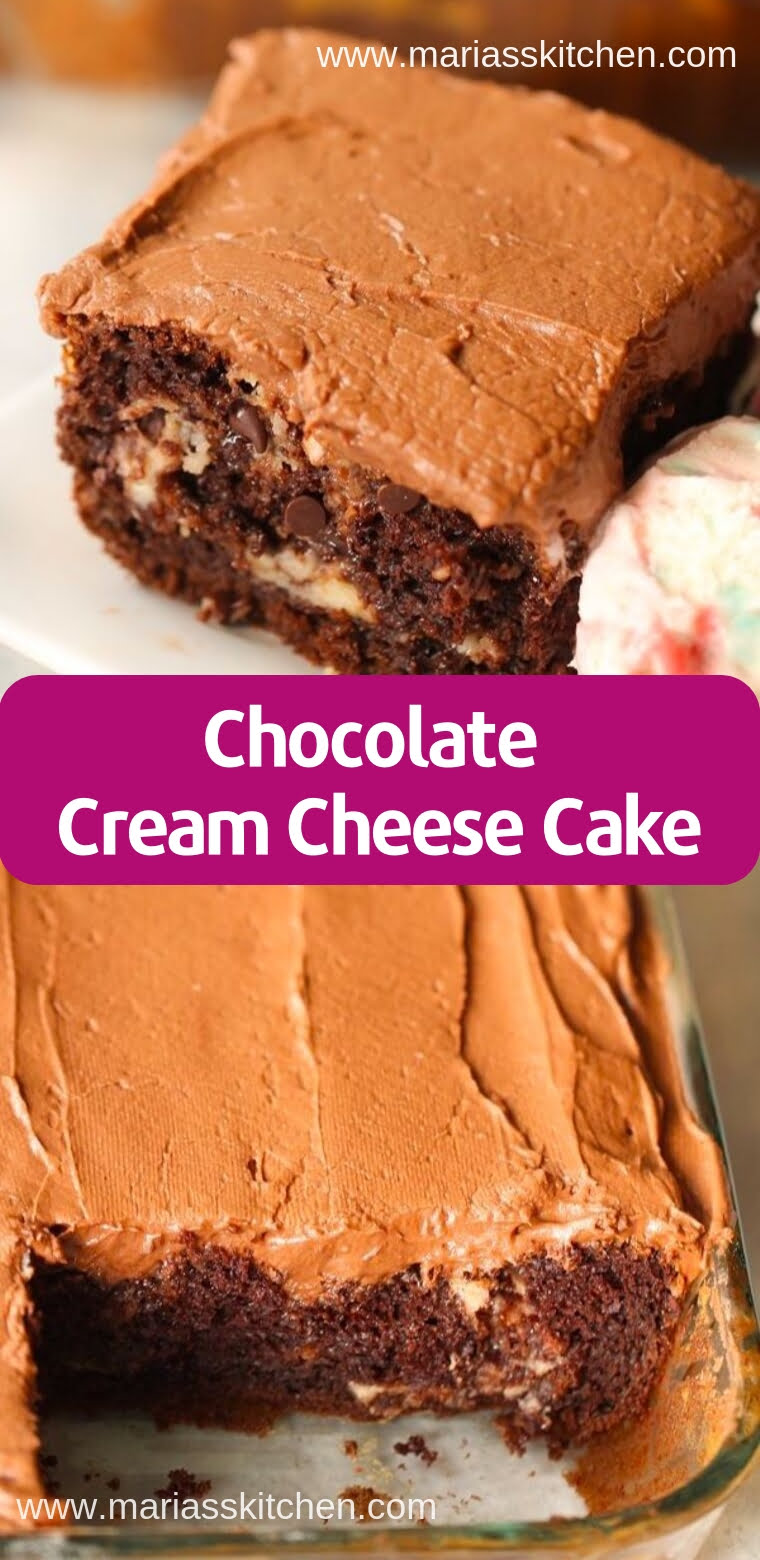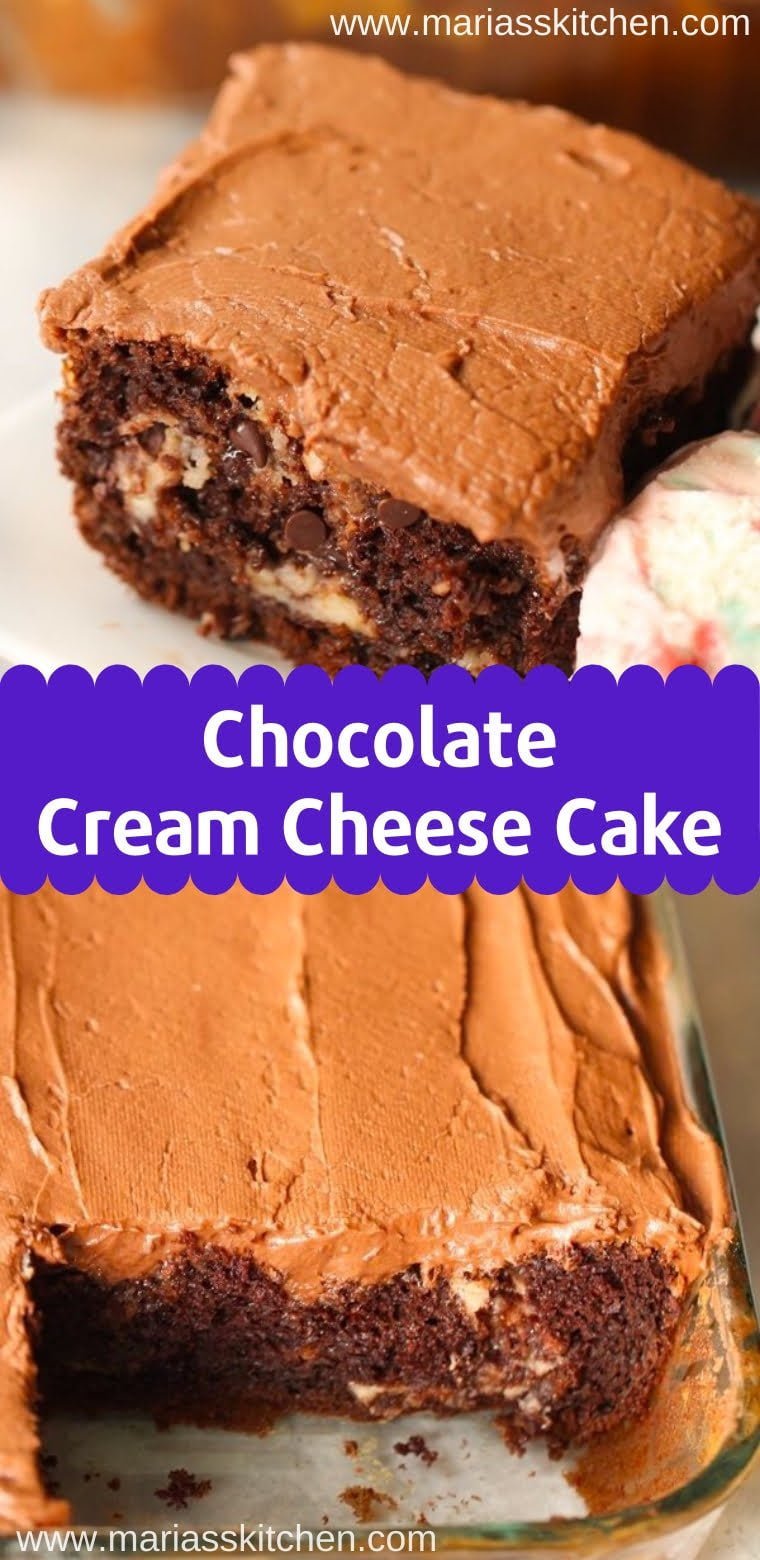 ---