These are very moist, and so far I haven't found anyone who doesn't love them! The best cake I've ever had…can't believe I MADE IT!!! It's so moist and fluffy and the perfect amount of sweet-I used less sugar. The frosting is what makes it so good I added walnuts on top as well….next time I make them I may add raisins. It makes lot of bars…. enjoy!
Moist and Delicious Pumpkin Bars
Ingredients:
4 large eggs
1 ⅔ cups white sugar
1 cup vegetable oil
1 (15 ounce) can pumpkin puree
2 cups all-purpose flour
2 teaspoons baking powder
1 teaspoon baking soda
2 teaspoons ground cinnamon
1 teaspoon salt
Frosting:
1 (3 ounce) package cream cheese, softened
½ cup butter, softened
1 teaspoon vanilla extract
2 cups sifted confectioners' sugar
Directions:
Preheat oven to 350 degrees F (175 degrees C).
In a medium bowl, mix the eggs, sugar, oil, and pumpkin with an electric mixer until light and fluffy. Sift together the flour, baking powder, baking soda, cinnamon and salt. Stir into the pumpkin mixture until thoroughly combined.
Spread the batter evenly into an ungreased 10×15 inch jellyroll pan. Bake for 25 to 30 minutes in preheated oven. Cool before frosting.
To make the frosting, cream together the cream cheese and butter. Stir in vanilla. Add confectioners' sugar a little at a time, beating until mixture is smooth. Spread evenly on top of the cooled bars. Cut into squares.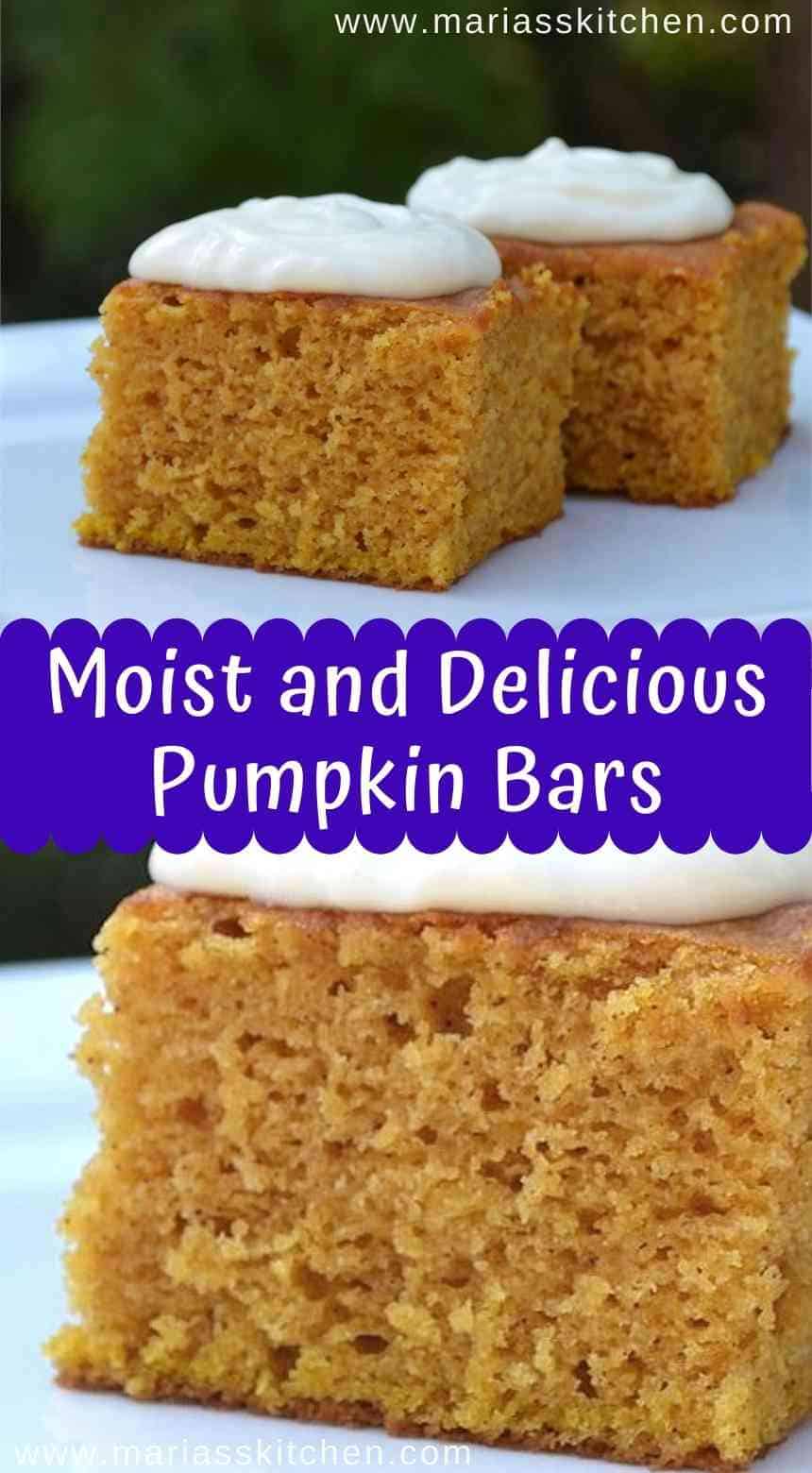 ---