This is a super easy homemade cornbread that anyone can make. You will need such simple ingredients – all-purpose flour, yellow cornmeal, salt, baking soda, baking powder, unsalted butter, vegetable oil, granulated sugar, honey, eggs, and buttermilk.
The absolutely best cornbread I have ever tasted and I can't believe that I actually made it! I followed the recipe exactly, and it came out exactly as described: crispy on the edges, moist and delicious!
Moist & Delicious Honey Cornbread
Ingredients:
1 cup all-purpose flour;
¾ cup yellow cornmeal;
½ tsp salt;
½ tsp baking soda;
2 tsp baking powder;
½ cup (1 stick) unsalted butter;
¼ cup vegetable oil;
1 cup granulated sugar;
⅓ cup honey;
2 large eggs;
1 ¼ cups buttermilk.
Directions:
Preheat the oven to 375°F. Place a 9×9 inch cast iron skillet in the oven while the oven is heating up.
Mix together the dry ingredients. Add all-purpose flour, yellow cornmeal, salt, baking soda, and baking powder to the bowl. Mix until combined. Set aside.
Reserve 1 tbsp butter for greasing the skillet. Melt the remaining butter in a microwave-safe bowl.
In a large mixing bowl, whisk together melted butter, vegetable oil, granulated sugar, and honey. Add eggs and buttermilk. Whisk until combined.
Add the dry ingredients to the wet. Stir until just combined and no large lumps of flour remain. Don't over-mix the batter.
Remove the skillet from the oven. Grease the preheated cast iron skillet with reserved 1 tbsp of butter. Then, pour the batter into the greased skillet. Bake in the preheated oven for 25-30 minutes or until ready. Check the readiness of the homemade cornbread using a toothpick inserted in the center, if it comes out clean – the cornbread is ready. Remove the cast iron skillet from the oven and let the homemade cornbread cool for 5-10 minutes. Then, slice and serve.
Note:
Let it cool completely after baking. Then, wrap it with aluminum foil or plastic wrap and store it in the freezer for up to three months. You can also place leftover homemade cornbread in an airtight container.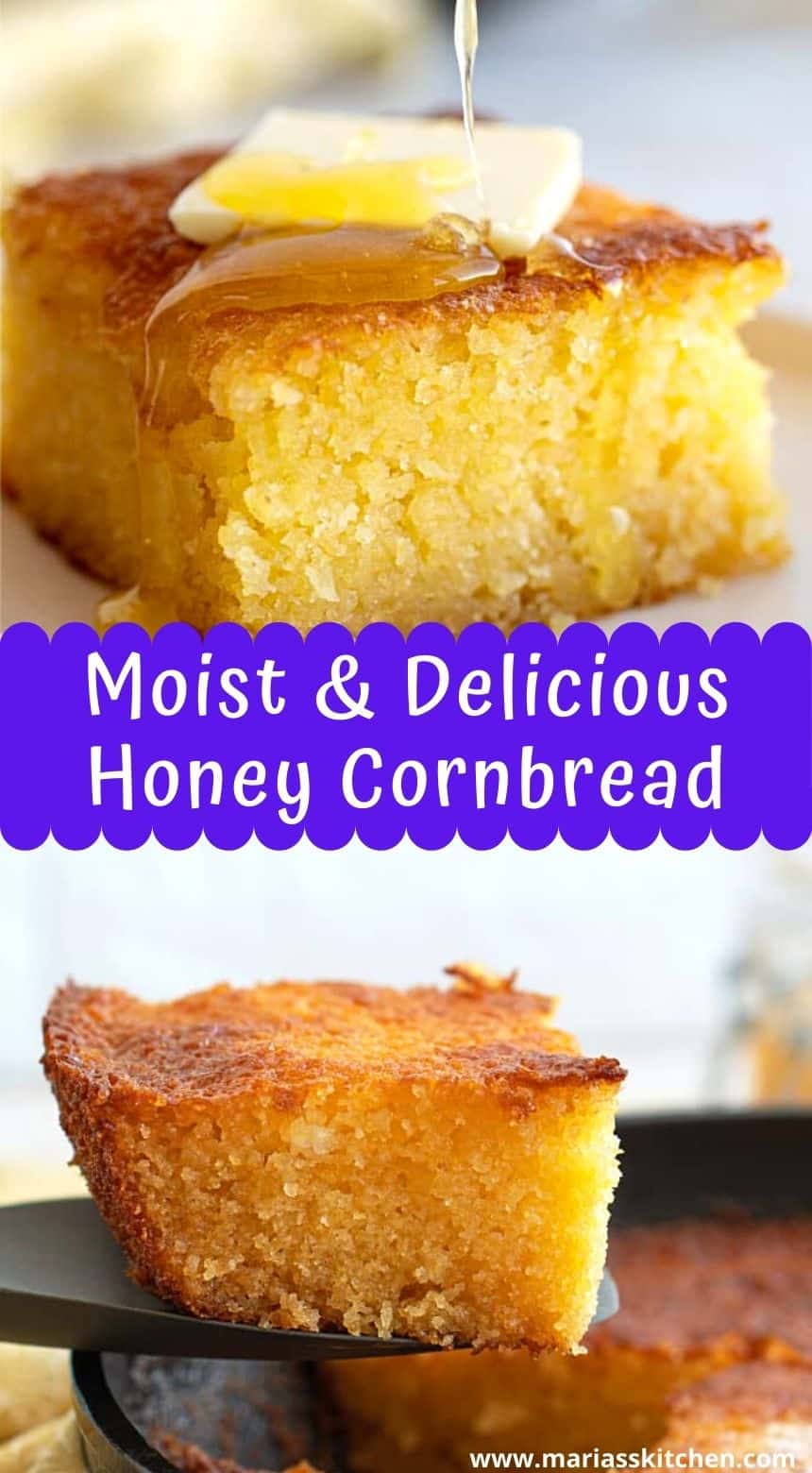 ---