Loved this dessert and rave reviews from everyone that tried it.. perfect for thanksgiving! Caramel topping and whip cream took it to the next level. I love pumpkin so may add more next time for more pumpkin flavor crust. With a tender pumpkin spiced cookie base, sweetened cream cheese filling and a topping inspired by pecan pie, these pumpkin cheesecake bars are strong contenders for the ultimate fall dessert! (And we haven't even gotten to the whipped cream, caramel and pecan garnish!) For all that dessert, you might be thinking this recipe is bound to be complicated, but we'd like to relieve you of that worry right now. This treat employs several clever shortcuts, which keep the prep time down under a half hour. So next time you can't decide between pumpkin bars, cheesecake or pecan pie, make this powerhouse recipe!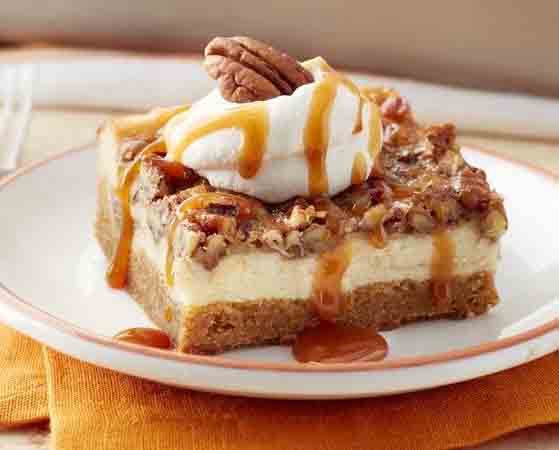 Pumpkin Pecan Cheesecake Cookie Bars
Ingredients:
Base:
1 pouch (1 lb 1.5 oz) Betty Crocker™ sugar cookie mix
1 tablespoon pumpkin pie spice
1/2 cup cold butter
1/4 cup canned pumpkin (not pumpkin pie mix)
Cream Cheese Layer:
2 packages (8 oz each) cream cheese, softened
1/2 cup sugar
2 tablespoons Gold Medal™ all-purpose flour
1 teaspoon vanilla
1 egg
Pecan Pie Layer:
1/3 cup butter, melted
1 cup packed brown sugar
3 tablespoons Gold Medal™ all-purpose flour
3 eggs
1 1/2 cups chopped pecans
1 teaspoon vanilla
1/2 teaspoon salt
Caramel topping, whipped cream and pecan halves, if desired
Directions:
Heat oven to 350°F. Spray 13×9-inch pan with cooking spray.
In large bowl, mix cookie mix and pumpkin pie spice. Add 1/2 cup cold butter and the pumpkin; mix with pastry blender or fork until crumbly. Press in bottom of pan. Bake 10 minutes.
Meanwhile, in another large bowl, beat Cream Cheese Layer ingredients with electric mixer on medium speed until smooth. Spoon over cookie base, and carefully spread to cover.
For Pecan Pie Layer, in large bowl, stir together 1/3 cup melted butter, the brown sugar, 3 tablespoons flour and 3 eggs until well blended. Stir in pecans, 1 teaspoon vanilla and the salt. Pour evenly over cream cheese layer.
Bake 35 to 40 minutes or until set. Cool 30 minutes. Refrigerate to chill, about 2 hours. To serve, cut into 6 rows by 3 rows. Drizzle each serving with caramel topping, and top with a dollop of whipped cream and a pecan half. Drizzle whipped cream with a small amount of caramel.
Tips:
Need a make-ahead or make-and-take dessert? This recipe can be made the day before serving.
Short on time? Top dessert with thawed frozen whipped topping or whipped topping from an aerosol can.
If you don't have pumpkin pie spice, make your own. It takes less than 5 minutes to mix together the following: 3 tablespoons ground cinnamon, 2 teaspoons ground ginger, 2 teaspoons ground nutmeg, 1 ½ teaspoons ground allspice and 1 ½ teaspoons ground cloves. Mix ingredients in a bowl and store in a spice jar.
Remember, there's a difference between canned pumpkin and pumpkin pie mix. The former is just pureed pumpkin, while the latter contains added sugar and spices. You want to use canned pumpkin, so you can control sugar and spice levels.
---