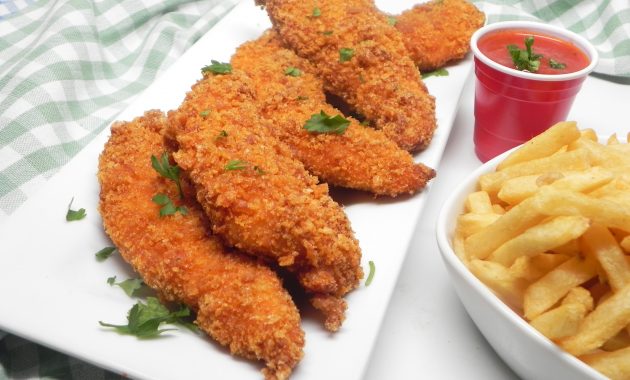 Homemade barbecue-crusted chicken tenders in an air fryer. Crispy on the outside, tender on the inside, and no flipping required.
Air Fryer BBQ Chicken Tenders
Ingredients:
3 ½ ounces barbecue-flavored pork rinds
1 cup all-purpose flour
1 tablespoon barbecue seasoning
1 egg, beaten
1 ½ pounds chicken breast tenderloins
cooking spray
Directions:
Preheat an air fryer to 370 degrees F (190 degrees C).
Place pork rinds in a food processor and pulse to the size of bread crumbs. Place in a shallow bowl. Mix flour and barbecue seasoning together in a shallow dish. Beat egg in a third shallow bowl.
Coat each chicken tender first in the flour mixture, then dip in beaten egg, and finally coat in pork rind crumbs.
Spray the basket of the air fryer with nonstick cooking spray. Arrange 1/2 of the chicken tenders in the air fryer basket, making sure none are touching. Spray the top of each tender with cooking spray. Cook until chicken is cooked through and no longer pink at the center, about 15 minutes. Repeat with remaining tenders.