This recipe for banana cream sheet cake is quick and delicious. We love the delicious filling of banana, cream and chocolate shavings – so creamy!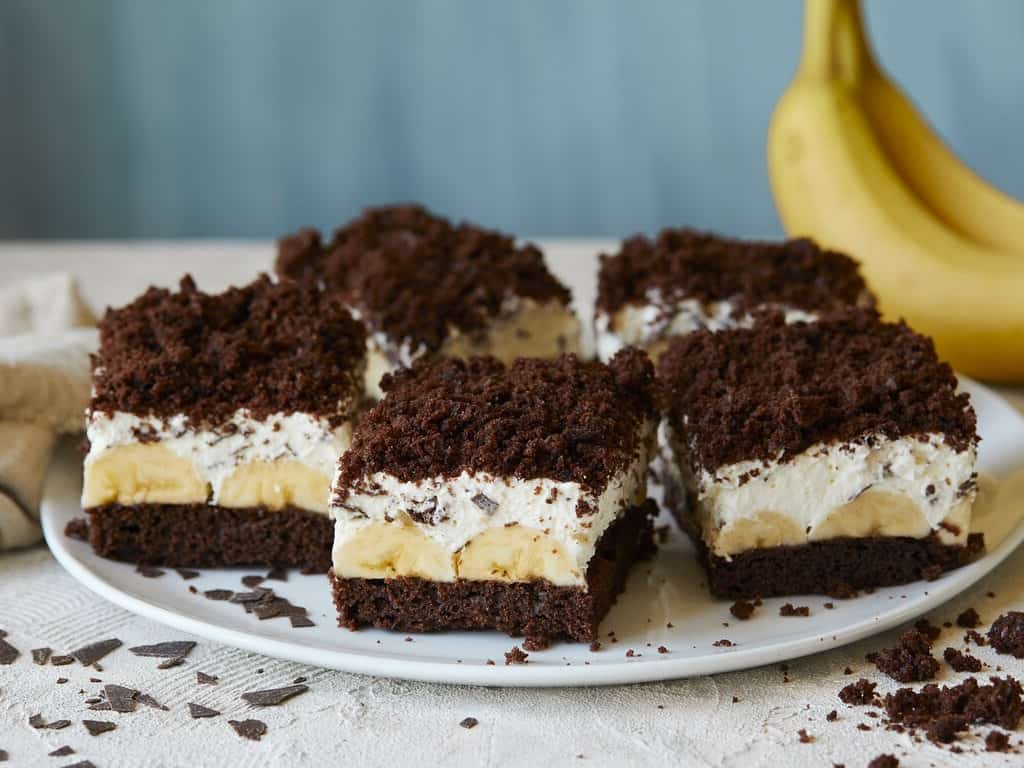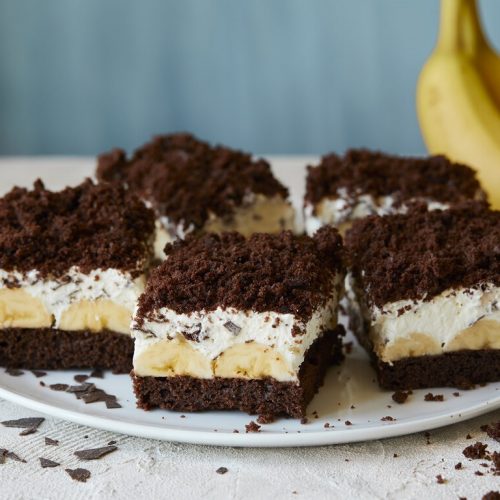 Print Recipe
Banana Cream Sheet Cake Recipe
Ingredients
FOR THE DOUGH:
225 ml sunflower oil

2 eggs (size M)

240 g sugar

1 sachet vanilla sugar

380 g wheat flour

1 pinch of salt

1 pck. baking powder

4 tablespoons baking cocoa

250 ml milk

some butter
FOR THE FILLING:
600 g cream

3 pck. cream stiffener

2 pck. vanilla sugar

100 g dark chocolate chips

8 bananas
Instructions
Preheat oven to 180 degrees top/bottom heat (convection oven: 160 degrees). Grease a baking tray (39 x 26 x 4 cm). For the dough, whisk together oil, eggs, sugar and vanilla sugar. Mix flour with salt, baking powder and cocoa and stir into the egg mixture alternately with the milk.

Pour the batter into the prepared tray, smooth it out and bake in the preheated oven for about 20-25 minutes. Let the cake cool completely.

Scoop out the cake with a spoon to a depth of about 1 cm. Crumble the scooped out dough in a bowl and set aside. The crumbs should be enough to cover the cake with later.

For the filling, whip cream until stiff, swirling in cream stiffener and vanilla sugar. Fold the chocolate chips into the cream. Peel the bananas, cut them in half lengthwise and place them close together on the cake base.

Spread the cream on the cake and smooth it down. Cover the cream with the scooped out cake crumbs. Refrigerate the mole cake until ready to serve. The cake yields about 20 pieces.