Today I have the recipe for chocolate cream puff easy with strawberries. Beautifully filled with chocolate, a strawberry and really a lot of cream. These cream puffs I had to bake again after a long time, because I failed the first batch. And why? Because I'm currently so verpeilt that I forgot an important ingredient in the choux pastry. I was annoyed. Mainly because of the waste of food. But well, it happens. So everything again from the beginning. With all the ingredients. And poof, it worked and I could pull delicious cream puffs out of the oven.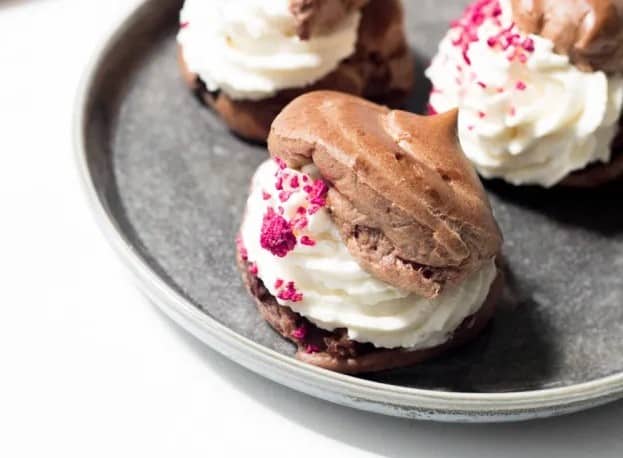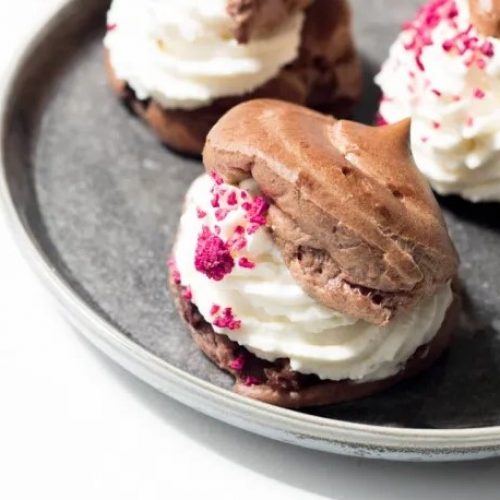 Print Recipe
Chocolate Cream Puff Recipe Easy
Ingredients
choux pastry:
125 ml water

25 g butter

1 pinch of salt

70 g flour

5 g cocoa

15 g cornstarch

1 pinch baking powder

3 eggs
Filling:
200 ml cream

2 tbsp. powdered sugar

2 tsp. San-Apart / 1 sachet cream stiffener

10 strawberries

50 g chocolate coating, whole milk
Instructions
For the choux pastry, put water, butter and salt in a pot and bring to a boil.

Remove the saucepan from the heat, mix the flour, cocoa, cornstarch and baking powder together and then add it all at once to the hot liquid and mix it with a spoon to a smooth dough.

Burn off the dough by heating the dough for about 1 minute while stirring or turning it back and forth. Then transfer the dough to a bowl.

Using a mixer, beat the eggs into the batter one at a time, slowly, until it is shiny and has peaks that stick to a knife or spoon.

Place the batter in a piping bag and then pipe onto a baking sheet lined with parchment paper in the shape of cream puffs. (The cream puffs will rise a lot when baked, remember this when piping).

Bake in a preheated oven at 200° C top/bottom heat for about 20-25 minutes. After baking, cut off the top directly and then let cool.

Chop the couverture and melt over a water bath. Spread the melted couverture on the bottom of the cream puff and place a washed, degreened strawberry on top.

Whip the cream with the sifted powdered sugar and San-apart/ cream stiffener until stiff. Place the stiff cream in a piping bag and carefully pipe onto the strawberries, then place the lid on top.