These Frosted Sugar Cookie Bars are soft, chewy and topped with homemade buttercream frosting and sprinkles. These cookie bars are made in a sheet pan and can easily feed a crowd.
These frosted sugar cookie bars are going to change your sugar cookie game forever.
Traditional sugar cookies require rolling out the dough, cutting out the cookies, baking, cooling, making frosting and decorating them.
That's just way too much work for me!
These Frosted Sugar Cookie Bars have all the delicious flavor and texture of traditional sugar cookies, but with a fraction of the work.
I love that I can use a sheet pan for these Frosted Sugar Cookie Bars because it's easy clean up and makes enough to feed a crowd.
These Sugar Cookie Bars are perfect to bring to a party or potluck and you can change the color of the frosting and sprinkles, depending on the time of year or holiday.
These are the BEST Frosted Sugar Cookie Bars I have ever tasted. They are perfectly soft and chewy and the frosting is light and fluffy.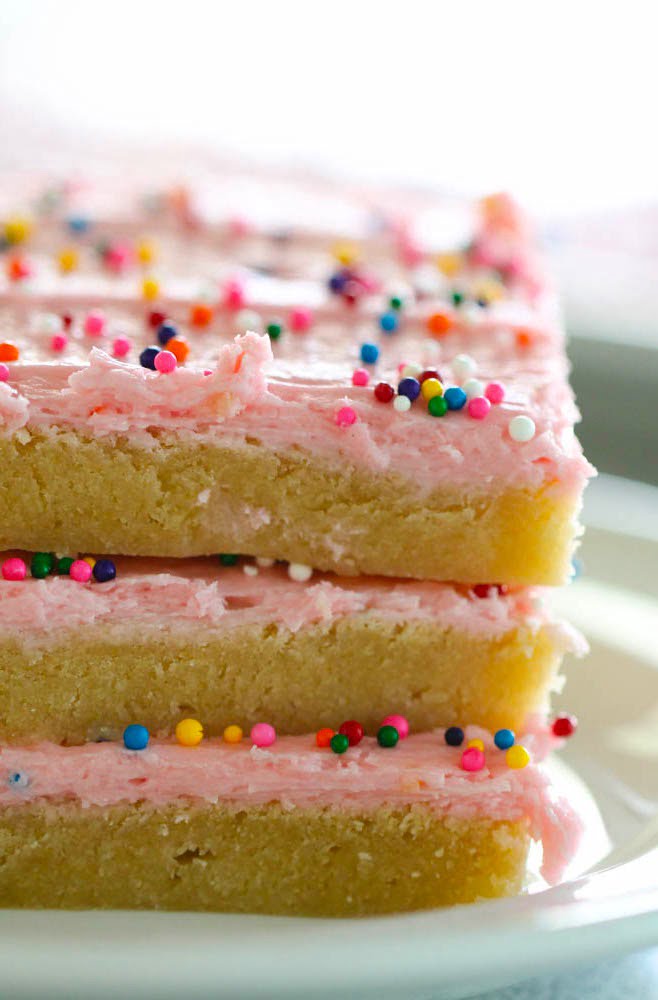 Frоѕtеd Sugаr Cооkіе Bаrѕ 
30 mіn Prер Tіmе  
12 mіn Cооk Tіmе  
42 mіn Total Tіmе
Ingredients:
Sugаr Cооkіе Bаrѕ:
1 сuр buttеr (ѕоftеnеd)
2 сuрѕ ѕugаr
4 lаrgе еggѕ
2 tеаѕрооnѕ vаnіllа extract
4 3/4 сuрѕ flоur
1 tеаѕрооn salt
1 teaspoon bаkіng soda
Frоѕtіng:
1/2 сuр buttеr (ѕоftеnеd)
3 Tаblеѕрооnѕ milk
2 tеаѕрооnѕ vanilla еxtrасt
4 сuрѕ роwdеrеd ѕugаr
Pink fооd соlоrіng
Sрrіnklеѕ, fоr tорріng
Directions:
Preheat oven to 375 degrees F.
In a large bowl, cream together butter and sugar until fluffy.
Add eggs, one at a time, mixing after each egg.
Mix in vanilla.
Beat in flour, salt and baking soda until well combined.
Spread and press dough onto a half sheet pan (18″x13″x1″) sprayed with nonstick cooking spray.
Bake for 10-12 minutes, or until just golden brown; let cool completely.
In a large bowl using a hand mixer or a stand mixer, combine all frosting ingredients and beat until light and fluffy.
Spread frosting in an even layer on cooled cookie bars and top with sprinkles, if desired.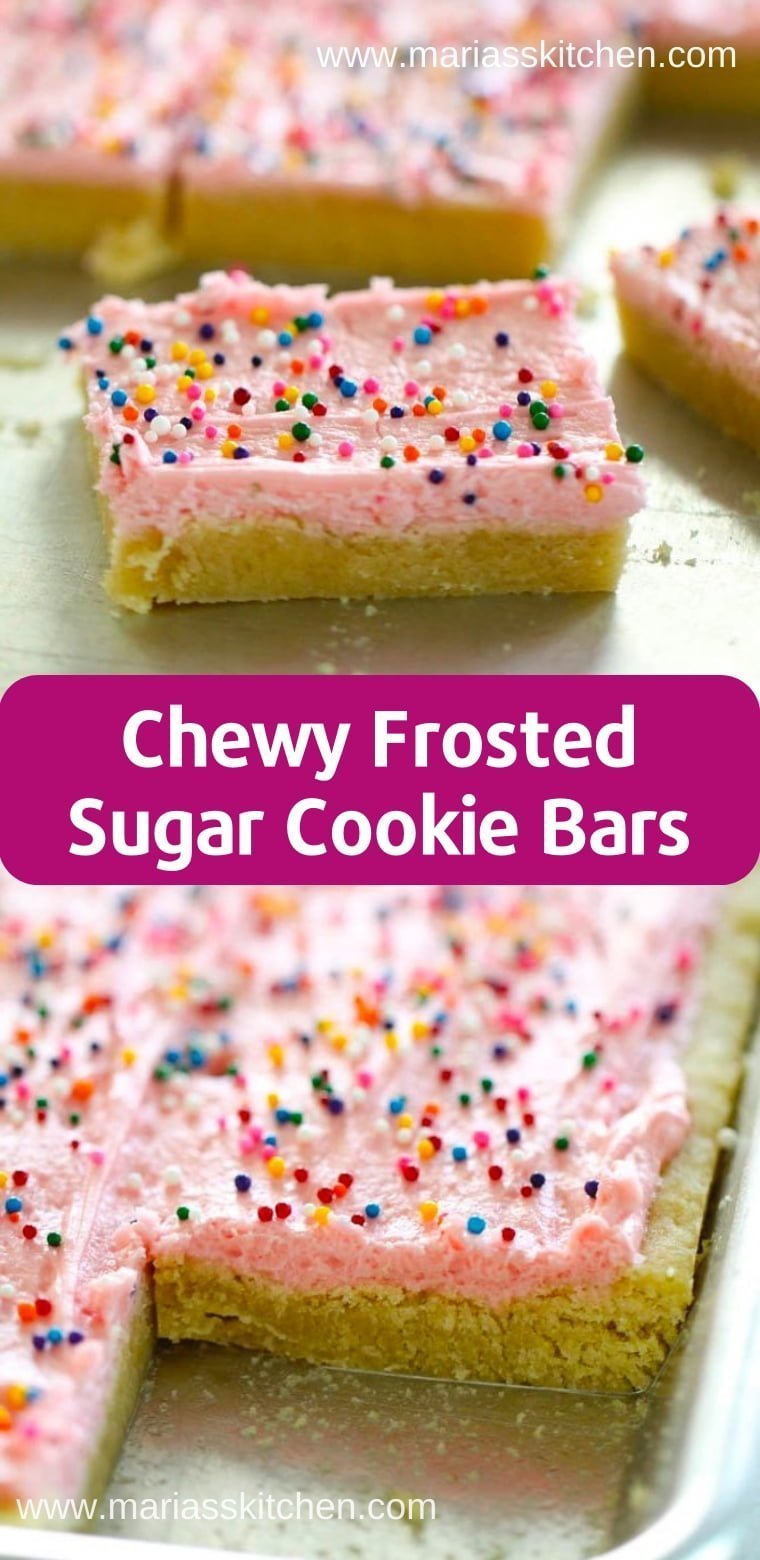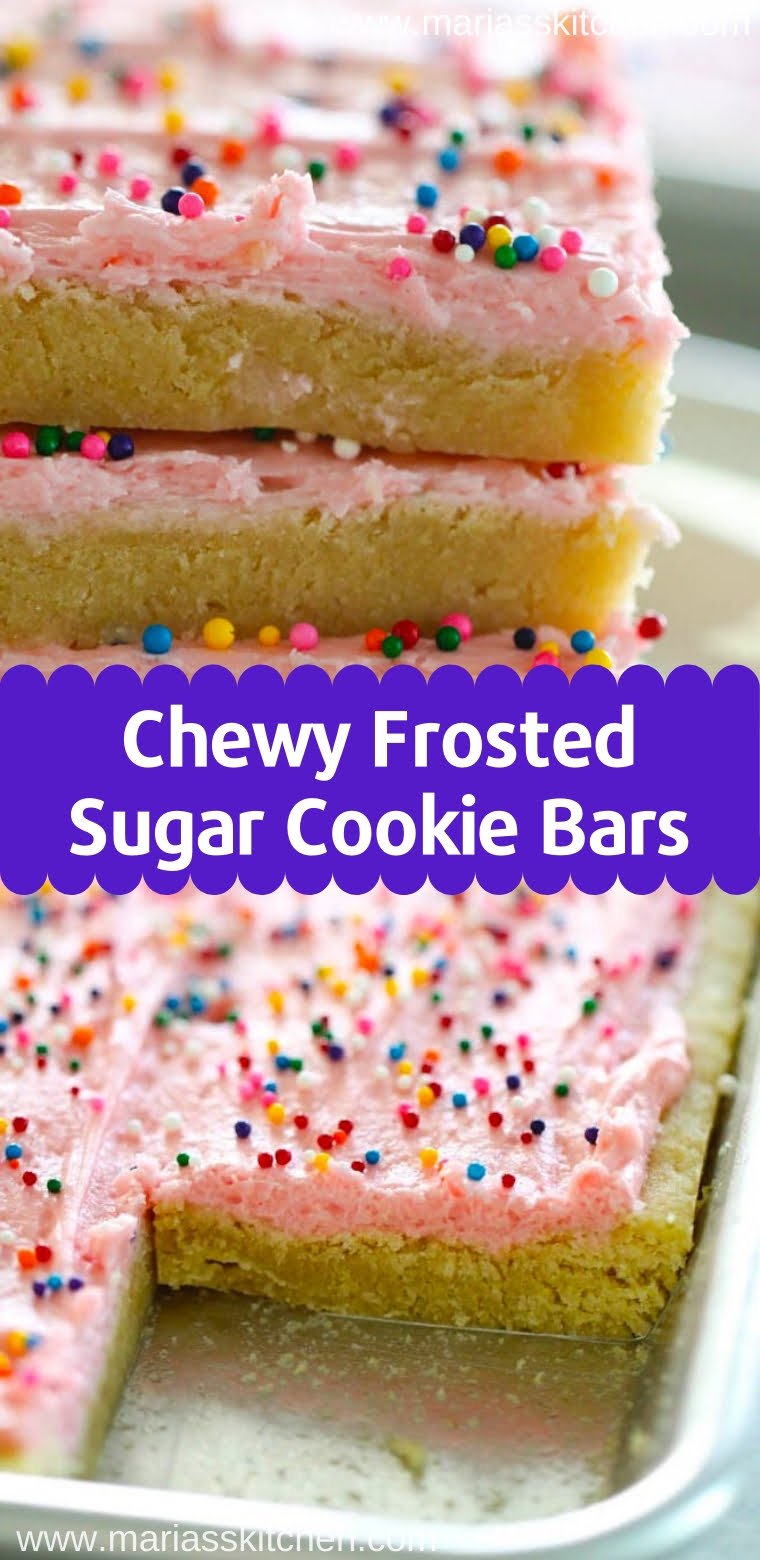 ---