Whу сhооѕе between crème brûlée аnd cheesecake when уоu саn combine them into one dесаdеnt dеѕѕеrt? Twо оf the bеѕt dеѕѕеrtѕ knоwn tо mаn, combined in оnе. It's a thick, custard-y, vаnіllа-у сhееѕесаkе wіth a grаhаm сrасkеrѕ crust аnd a crunchy.  Made this for my daughter-in-law for her birthday in September. My first time making a cheesecake. Amazing. Followed directions exactly. Just made again for Thanksgiving. Everyone so excited again. Water bath makes all the difference in texture of cheesecake for sure. So creamy. No dry edges.
To get that perfect caramelized sugar topping we highly recommend using a torch. We tested broiling the cheesecake to caramelize the top, but some parts started to burn before other parts were even melted at all and the butter started to leak out of the crust. It was quite the sight when we pulled it out!
Crèmе Brûléе Chееѕесаkе 
Yіеldѕ: 8 – 10 ѕеrvіngѕ 
Prер Time: 0 hоurѕ 30 mins 
Total Tіmе: 8 hоurѕ 0 mіnѕ
Ingrеdіеntѕ:
FOR THE CRUST
Cooking spray
9 graham crackers (1 sleeve), finely crushed
6 tbsp. melted butter
1/4 c. granulated sugar
pinch of kosher salt
FOR THE FILLING
4 (8-oz.) blocks of cream cheese, softened
1 c. granulated sugar
3 large eggs
2 large egg yolks
2 tsp. vanilla bean paste
1/4 c. sour cream
2 tbsp. all-purpose flour
1/4 tsp. kosher salt
FOR THE TOPPING
1/3 c. superfine sugar
Raspberries, for serving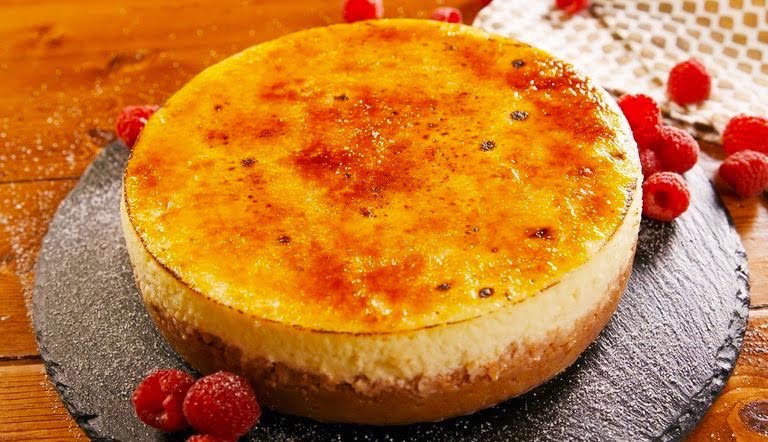 Directions:
Preheat oven to 325° and grease an 8″ or 9″ springform pan with cooking spray.
In a large bowl, mix together graham cracker crumbs, butter, sugar, and salt. Press into bottom of prepared pan and up the sides.
Make filling: In a large bowl using a hand mixer, beat cream cheese and sugar together until no lumps remain. Add eggs and egg yolks, then stir in vanilla bean paste and sour cream. Add flour and salt and beat until just combined. Pour mixture over crust.
Wrap bottom of pan in aluminum foil and place in a large roasting pan. Pour in enough boiling water to come up halfway in the baking pan.
Bake until center of cheesecake only slightly jiggles, about 1 hour 30 minutes. Turn off heat, prop open oven door, and let cheesecake cool in oven, 1 hour. Remove foil and refrigerate cheesecake for at least 5 hours and up to overnight.
When ready to serve, sprinkle superfine sugar on top and carefully torch until caramelized. Serve with raspberries.
---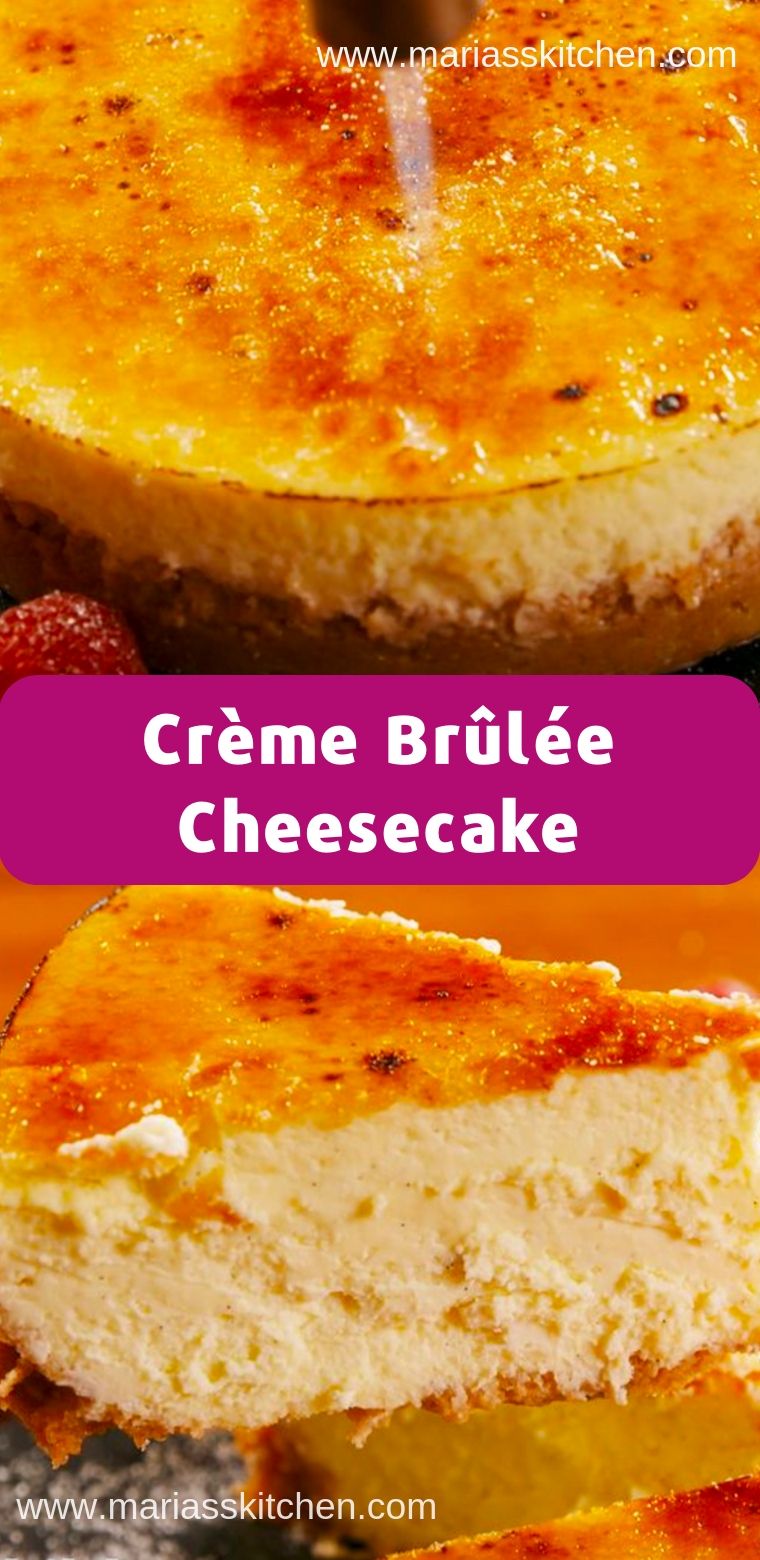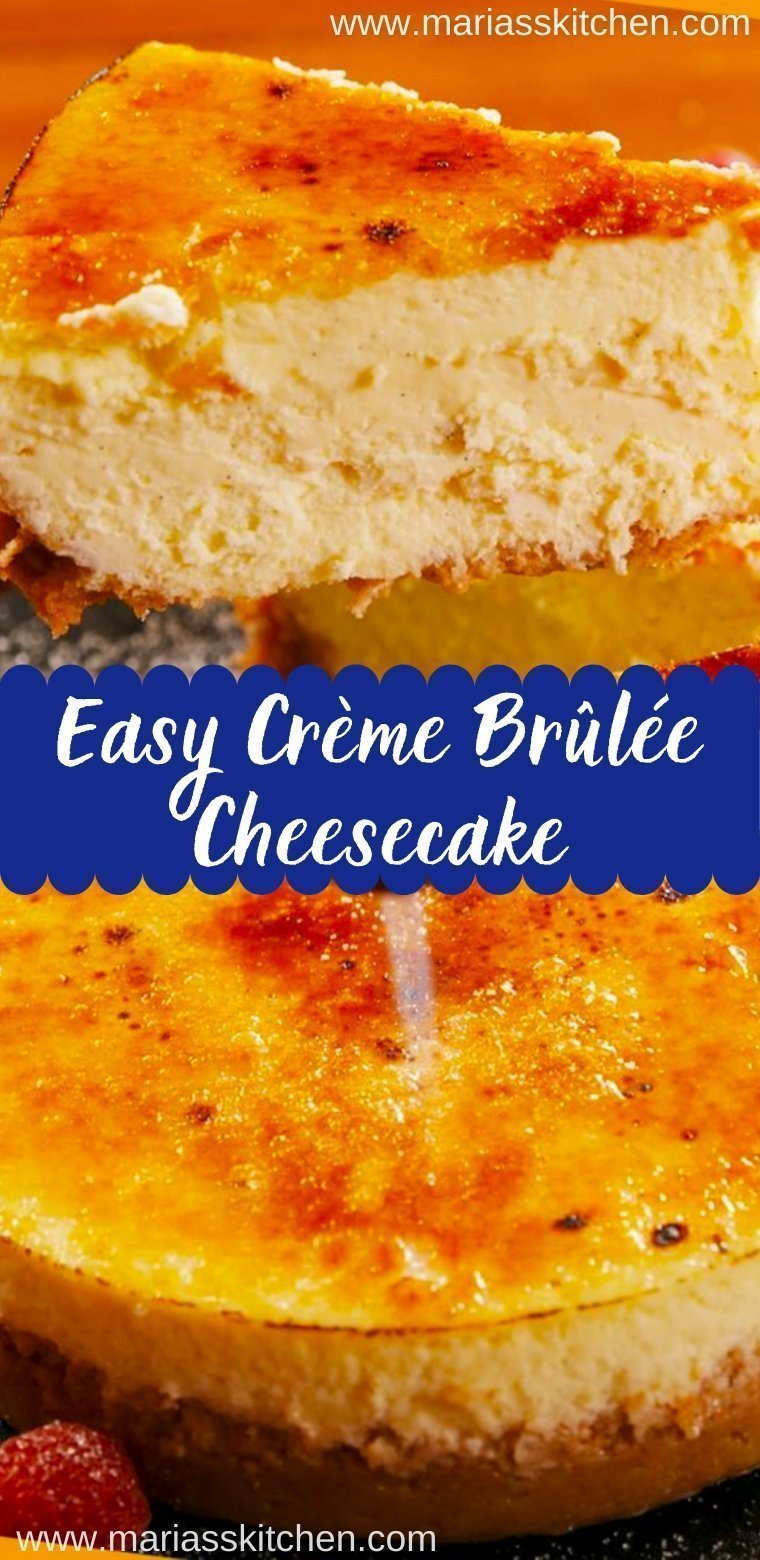 ---