Is it a sandwich cookie? Or a handheld little cake? To be honest, we're still unclear. What we do know is that this autumnal spin on the classic American whoopie pie gives us an unreasonable amount of joy once the weather starts to cool down. (Or as soon as September hits.).
Delicious Pumpkin Whoopie Pies
Ingredients:
3 c. all-purpose flour
1 tbsp. pumpkin pie spice
1 tsp. kosher salt
1 tsp. baking powder
1 tsp. baking soda
2 c. packed brown sugar
1/2 c. vegetable oil
1 c. (2 sticks) butter, softened, divided
1 (15-oz.) can pumpkin puree (about 2 cups), preferably chilled
2 large eggs
3 tsp. pure vanilla extract, divided
8 oz. cream cheese, softened
3 c. powdered sugar
2 tbsp. maple syrup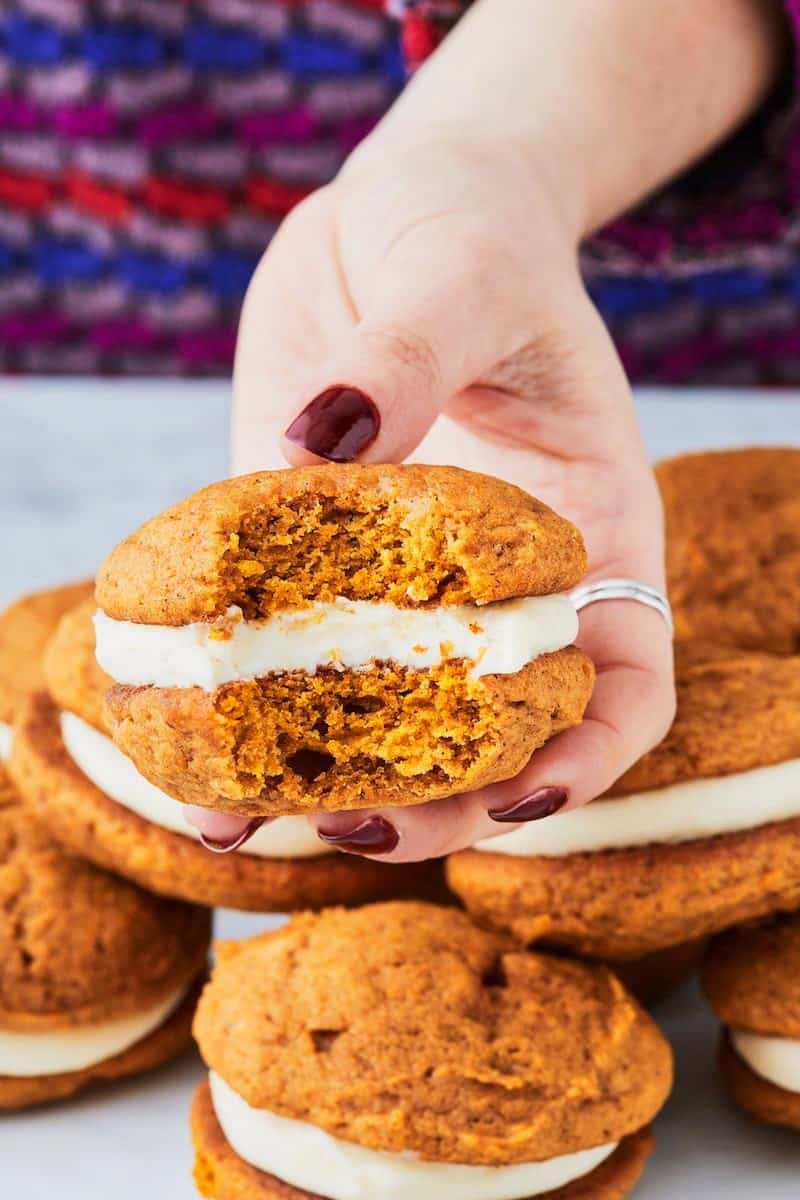 Directions:
Preheat oven to 350° and line two large baking sheets with parchment paper. In a medium bowl, whisk together flour, pumpkin spice, salt, baking powder, and baking soda.
In a separate large bowl using a hand mixer, beat brown sugar, vegetable oil, 1/2 cup butter, pumpkin puree, eggs, and 1 teaspoon vanilla until smooth. Add dry ingredients and stir until combined. (The dough will be sticky and soft.)
Using a medium cookie scoop, scoop dough onto prepared baking sheets, leaving at least 2" between each cookie. Bake until springy to touch, about 15 minutes. Transfer cookies to a cooling rack to cool completely.
Make filling: In a large bowl using a hand mixer, beat together remaining 1/2 cup butter and cream cheese. Add powdered sugar, maple syrup and remaining 2 teaspoons vanilla and beat until fluffy.
Spread filling onto the bottoms of half of the cookies. Place the remaining cookies, bottom side-down, on top. Serve immediately or store in fridge in an airtight container for 2 to 3 days.
---