You only need a few ingredients to make these apple fritters.. deep fried homemade dessert filled with apples, cinnamon and coated in cinnamon sugar or covered with sweet glaze…you just can't get enough of them! Cake batter bites filled with fresh fall apples, deep fried and covered with easy sweet glaze…you just can't get enough of them!
Easy to make treat suitable for breakfast or dessert. And the best part is that you can have it in front of you in 30 minutes, there is no long preparation and waiting, ingredients come together quickly just mix them up and fry.
Which Apples To Use
When possible use Granny Smith or Honey crisp because they hold up nicely when fried. But you can use your favorite eating apples as well. Cut the apples to peanut size or smaller.
Can You Bake Apple Fritters?
I wouldn't recommend baking for this particular recipe because in the oven they won't rise up beautifully and won't be crispy.Make sure to keep the oil temperature at 365°F so your fritters absorb less of the oil.
How To Make Them Really Crispy?
The darker, the crispier! If you want your apple fritters really crispy fry them longer until they get dark golden brown, that way they will stay crispy longer.Lighter golden fried fritters are best enjoyed immediately.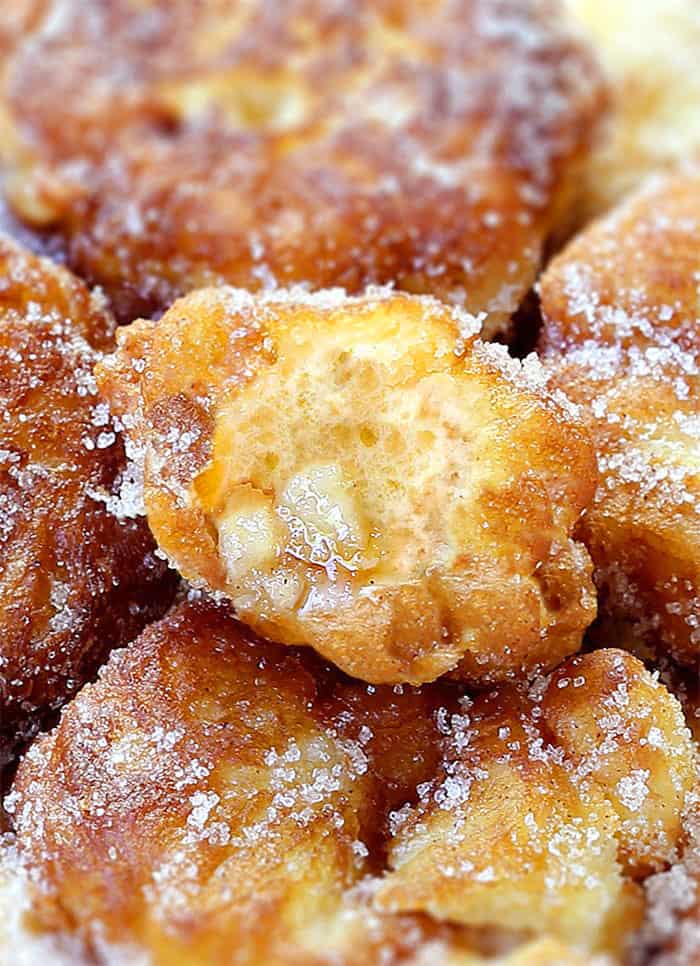 Easy and Delicious Apple Fritters
Ingredients:
1 cup flour
1/3 cup sugar
1 tsp. baking powder
dash salt
1-2 tsp cinnamon depending on how much you love cinnamon
1/4 tsp nutmeg
1/2 tsp vanilla
1 tbsp butter melted
1 egg
1/3 cup milk plus more if needed
1 1/2 cups apples honey crisp or granny smith, peeled, cored and diced into peanut sized or smaller
oil for frying
Topping Option ( Cinnamon Sugar):
Topping Option ( Sugar Glaze):
1 cup powdered sugar
1 Tbsp milk or more
Directions:
Whisk together flour, sugar, baking powder, salt, cinnamon and nutmeg in a large bowl. Make a well in the center and add milk, egg, butter and vanilla.
Stir just to combine, but not overly beat,gently fold in apple pieces. The batter should be the consistency of a light cake mix.
Fill a frying pan halfway with oil. Once the oil is ready, (until the oil reaches around 365°F with a candy thermometer or when a test drop of dough floats to the top of the oil)
Using a cookie scooper or soup spoon, drop about 1/4 cup of batter per fritter into hot oil, spreading it out as you drop.
Place a 4-5 balls of dough into the oil at a time. Be careful not to overcrowd. Cook each side until golden brown, approximately 2 minutes per side.
Adjust cooking times based on size of fritters and temperature of your oil. It is always a good idea to test one to ensure it comes out like you are expecting. Remove to paper towels to drain.
Toss with cinnamon sugar while still warm and your choice of ice cream and topping.
Or whisk together milk, powdered sugar and vanilla. Dunk each fritters in the glaze turning over to make sure both sides coated. Place on wire racks to air dry and drip.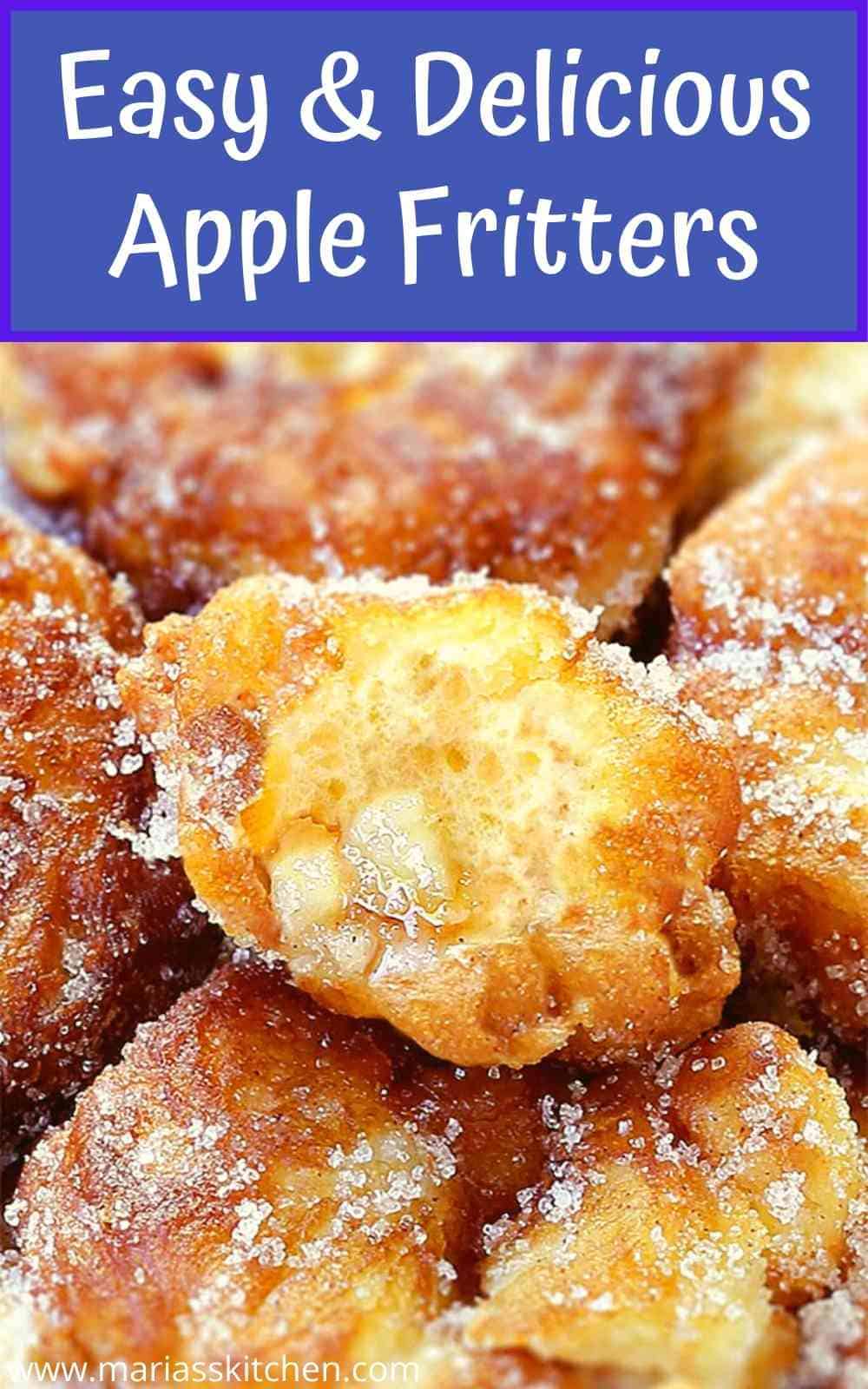 ---