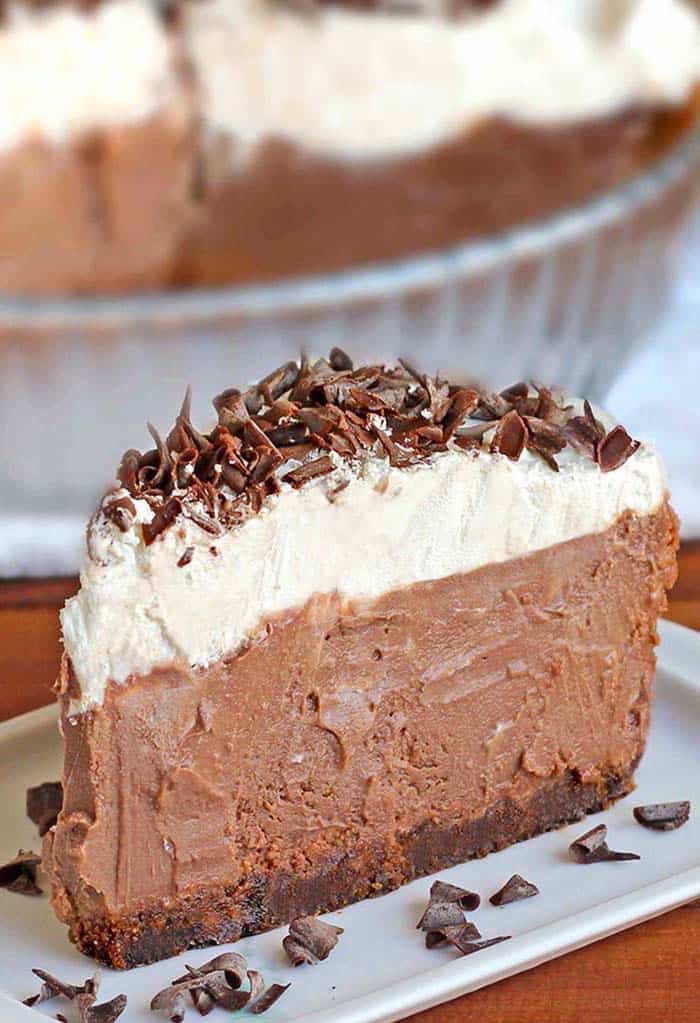 Easy and Delicious Chocolate Cream Pie
Ingredients
Crust
1 1/2

cups chocolate graham crackers crumbs, about 10 crackers



8

tablespoons butter, plus more for greasing the plate



1/4

cup dark brown sugar



1

tablespoon Hershey's Special Dark cocoa


Fіllіng


3 1/2

cups half-and-half



8

tablespoons butter, cut into chunks



2/3

cup sugar



1/4

cup cornstarch



9

egg yolks



9

oz. semi-sweet chocolate, chopped



2

oz. bittersweet chocolate, chopped



1 1/2

teaspoons vanilla extract


Tорріng


2

cups heavy cream



2

tablespoons sugar



1

teaspoon vanilla


dark chocolate or chocolate chips, for garnish


Instructions
Crust : Preheat oven to 350 degrees F. Grease bottom and sides of a 9-inch pie plate with butter.Set aside



Heat butter and brown sugar in a saucepan until sugar dissolves.Pour the mixture into a medium bowl and combine with the chocolate graham cracker crumbs and cocoa, until the crumbs are evenly moistened. Transfer the crumbs to a 9-inch pie plate



Use the bottom of a measuring cup to press the crumbs to the bottom and up the sides of the pie dish.



Refrigerate for 20 minutes. Bake until set, about 10-15 minutes. Let the crust cool while you make the filling.


Filling
In a saucepan, heat the half and half until it starts to simmer. Remove the pan from the heat.



In a large heat-proof bowl, whisk together sugar and cornstarch, add egg yolks and whisk until smooth.



Pour the hot half-and-half into the egg yolk mixture in a thin stream, whisking constantly. Keep pouring, whisking constantly, until you've added all the hot half-and-half.



Once all of the half and half has been added, pour the entire mixture back into the saucepan and cook over medium heat, whisking constantly, until bubbles rise to the surface and mixture is very thick, about 3–4 minutes. (it should coat the back of a spoon nicely).



Remove pan from heat and add the butter and chopped chocolate to the hot mixture in small handfuls. Mix together until thoroughly incorporated. (it should look like a big pot of hot chocolate pudding)



Stir in the vanilla and whisk to incorporate, then immediately pour the filling through a fine-mesh sieve set over a bowl.



Using a spatula, scrape the strained filling into the baked and cooled crust. Press plastic wrap directly on the surface of the filling and refrigerate the pie until the filling is cold and firm, at least 4 hours or overnight. (This will ensure that no skin will form while it's cooling).



When ready to serve, whip the heavy cream, sugar, and vanilla together until stiff peaks form.



Spread or pipe the whipped cream over the chilled filling and garnish with shaved chocolate or chocolate chips, if desired. Serve immediately