These delicious chocolate brownies are filled with a little dulce de leche. And have a little cream topping with dulce de leche. I especially like the brownie when they are really nice and chocolaty and a little moist! To get such nice brownies, the batter should not contain too much flour.
These brownies  are quite powerful, so you should cut them in not too big pieces.
Tips for your perfect brownies:
You should use a very good quality dark chocolate
The brown sugar gives you a very light caramel note, mix it with the white sugar.
Note the baking time of the brownie should have a small crust and moist core. You must not bake it too long.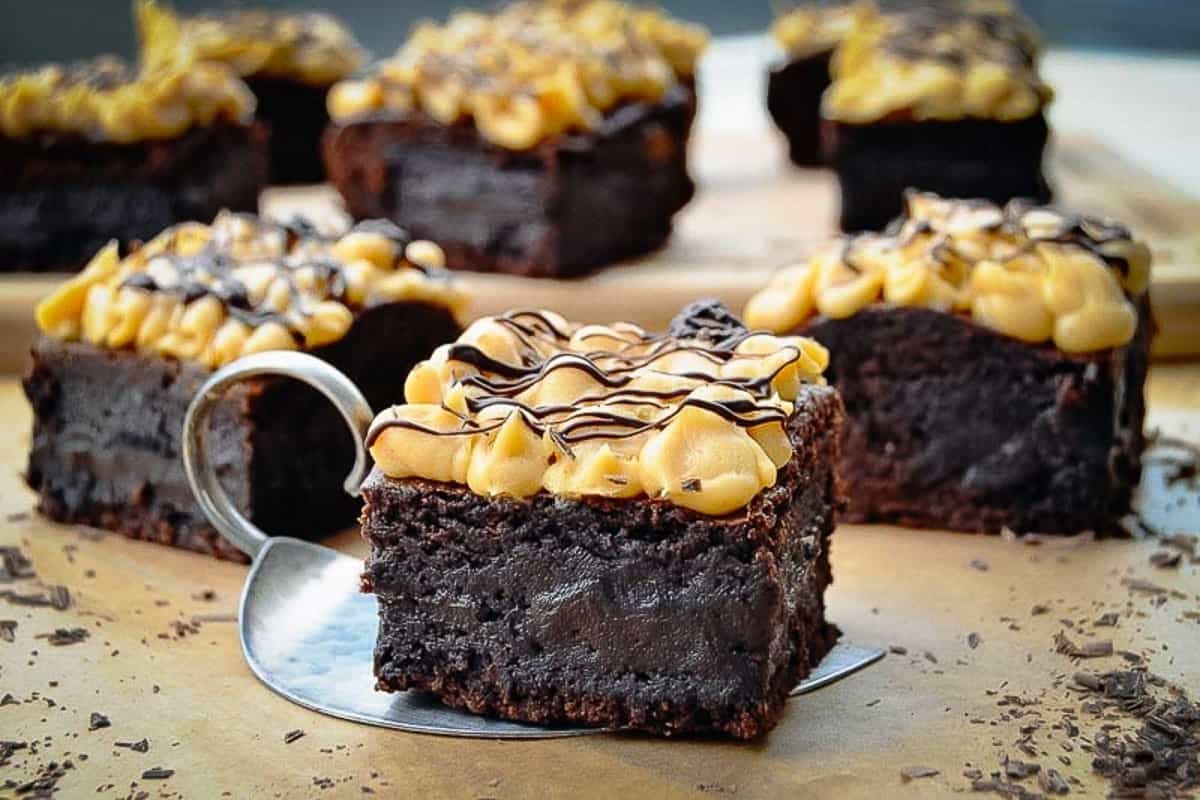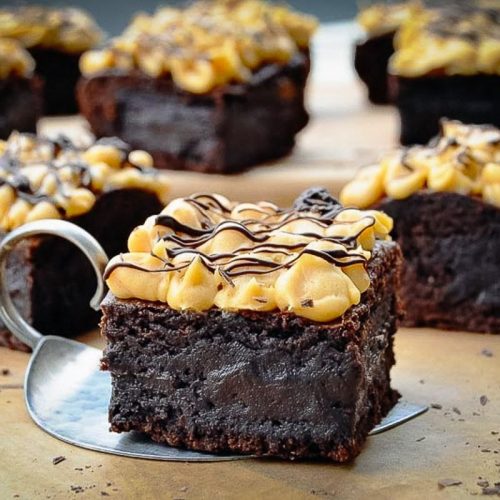 Print Recipe
Fudgy & Delicious Chocolate Brownies
This delicious chocolate brownies are filled with a little dulce de leche.
Ingredients
Chocolate brownie:
4 eggs

130 g flour

180 g sugar half brown sugar

½ vanilla pod pulp

2 tbsp vanilla sugar

4 tbsp cocoa

130 g butter

170 g chocolate dark chocolate 70 % cocoa content

1 tsp coffee flavoring or 2 el boiled expresso

5 Oreo cookies or light cookies

100 g Dulce de Leche homemade or bought
Dulce de Leche cream:
100 g butter

150 g dulce de leche

100 g powdered sugar

1 pinch sea salt

50 g dark chocolate coating for decoration
Instructions
Prepare all ingredients and weigh them. Warm the butter slightly

Break the chocolate into pieces and add to the warm butter. Stir everything with a whisk until the chocolate is melted.

Mix the brown and white sugar, add the vanilla sugar, and the salt and mix everything well. Remove the warm mixture from the heat. Allow the chocolate mixture to cool well.

Cut the vanilla bean lengthwise and scrape out the pulp with a knife. Add the coffee flavoring and cocoa to the chocolate cream.

Beat the eggs briefly and fold into the cooled chocolate cream. This is best done with a spatula.

Now fold the flour into the brownie batter.

Line a small square 20 X 20 cm baking pan with baking paper and fill with half of the batter.

Spread the cookies and some dulce de leche on the dough.

carefully pour the remaining chocolate batter into the mold.

Bake the dough in the preheated oven at 170 degrees convection on the middle shelf for about 20-25 minutes. The chocolate cake should have a crust and still be slightly moist in the center.

If you press on the surface with your finger, it will give a little. The brownie cake should not be baked too long in any case.
Dulce de leche cream:
Mix the powdered sugar with the butter and then stir in the dulce de leche. until a nice form cream is formed.

Cut the well cooled brownie cake into pieces. Fill the cream into a piping bag and pipe onto the brownies.

Heat a little chocolate glaze and decorate the dulce de leche cream of the brownies with it.