Rainbow cake looks original and is a hit at children's birthday parties. The recipe is simple but a little time consuming.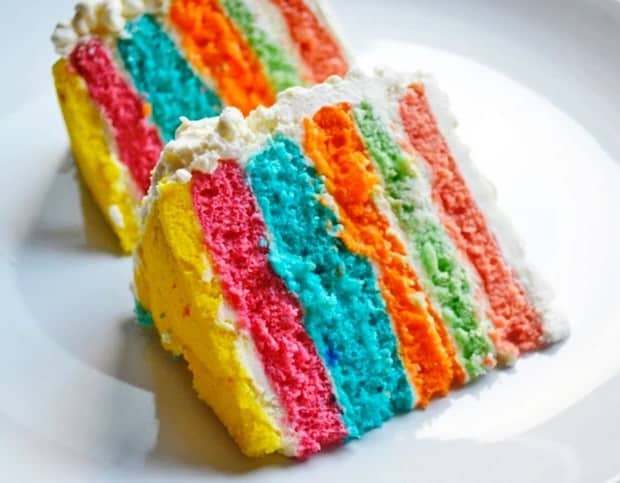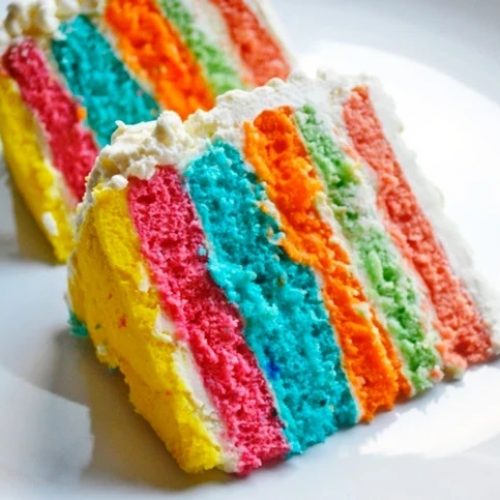 Print Recipe
Easy & Delicious Rainbow Cake
Ingredients
6 pcs eggs, separated

6 pk food coloring, various

360 g sugar

450 g flour

1 pinch of salt

2 pk baking powder
for the cream:
300 g butter

100 g powdered sugar

1 pk vanilla pudding powder

50 g sugar

0.5 l milk
Instructions
For the dough, separate the eggs and beat the egg whites until stiff. Beat the egg yolks, sugar and salt for a few minutes. Mix baking powder and flour and fold into the mixture alternately with the beaten egg whites.

Divide the batter evenly among six bowls and color each portion of batter with a food coloring. Stir the color in well.

Preheat the oven to 180 degrees. Pour the dough portions one by one into the springform pan and bake for 12 minutes each.

Allow the individual pastry portions to cool well.

For the cream, mix the vanilla pudding with a little milk until smooth. Boil the remaining milk with the sugar and stir in the dissolved custard powder. Bring to the boil again briefly, stirring constantly until the mixture is more solid. Then let it cool down well. Then beat butter and sugar until fluffy and stir in the cooled pudding by the spoonful.

Layer the cake in the springform pan (25 or 26) - first start with one cake layer, smooth about 3 spoonfuls of the cream on top and place the next cake layer on top. Repeat the process with the remaining cream and bottoms.

Let the cake rest for about 1 hour before cutting.