Get ready to satisfy your cravings with a collection of mouthwatering Italian soup recipes that will transport you straight to the rustic kitchens of Italy.
These easy and delicious italian soup recipes are not just for warming up your tummy before the main course – oh no! They're so hearty and satisfying that they can totally steal the spotlight as a meal on their own.
Picture yourself cozying up with a big ol' bowl of steaming soup, giving your body a warm hug and your soul a sweet serenade. It's like a flavor explosion that's both healthy and lip-smackingly good! Whether you're slurping it down for lunch or snuggling by the fire on a frosty night, these soups are the ultimate comfort food superheroes.
From classic Minestrone soups to comforting Sausage and Tortellini Soup that will make your mouth water, we've got you covered with a delightful array of recipes that are as playful as they are delicious. So grab your apron and let's get cooking!
30 Easy and Delicious Italian Soup Recipes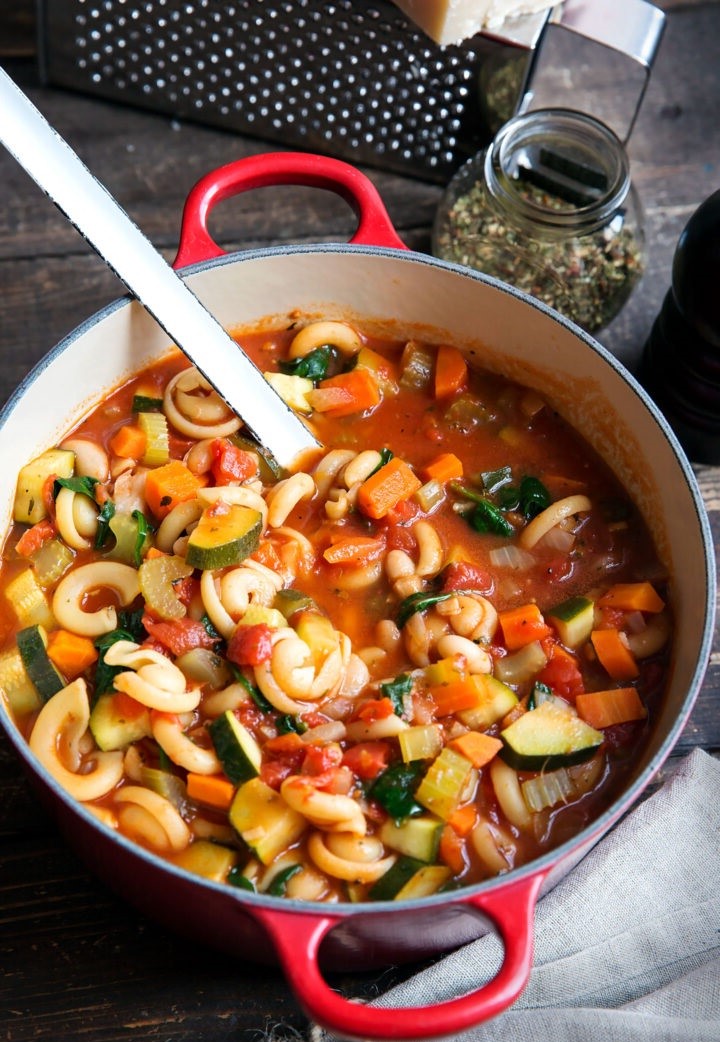 A nutritious Italian soup with short pasta and vegetables. Served with freshly grated Parmesan cheese.
The version presented here is probably most comparable to the Genoa version. In addition to tomatoes, carrots and celery, white beans and baby spinach are added to the soup. Plus short pasta and, of course, plenty of grated Parmesan cheese. It's a wonderful dish, especially in the cold months!
Buckle up for a flavor-packed joyride with this one-pot Italian sausage orzo soup! Bursting with spicy Italian sausage, tender orzo pasta, and a lusciously rich tomato broth, this dish is a true winner. In just 20 minutes, you'll have a steaming bowl of deliciousness that will leave you craving more. Don't miss out on this quick and scrumptious recipe, give it a try!
Creamy, dreamy white bean soup that's jam-packed with leafy greens and that irresistible Italian flair. Yum!
Now, we've got a revamped version for you that's as modern and light as a feather. We've simplified some steps, ditched the stale bread (who needs that, right?), and trimmed down the cooking time. It's all about making your life easier while keeping the flavors intact.
But don't worry, the heart and soul of this soup are still right there. It's got that rustic, down-to-earth charm, and it's creamy, dreamy, and full of lip-smacking flavors that'll make your taste buds do the happy dance.
What's even better? You can whip up this magic in less than 45 minutes! That means you can have a wholesome and comforting meal for the fam in no time. And the best part is, you can make a big batch and store it in the fridge for days. Easy-peasy meal planning, done!
Imagine cozying up with a bowl of this goodness on a chilly winter day. Pure bliss, right? And hey, if you want to be a kitchen superhero, go ahead and make it ahead of time. It's the secret weapon for busy days when you want something nourishing without the fuss.
Let me tell you about Nonna's Pasta Fagioli Soup—it's pure happiness in a bowl! Picture this: you're in the dead of winter, freezing your buns off, and suddenly this big, steaming bowl of goodness appears before you. Boom! Instant warmth, instant comfort.
Now, this ain't your regular ol' soup! it's packed with all the good stuff. Veggies? Check! Meat? Double check! Beans? Triple check! And they all party together in this delicious tomato base, spiced up with oregano and a kick of red pepper flakes. It's like a flavor explosion in your mouth.
And oh, the tender beef just melts in your mouth, making you feel all cozy and content. You know, that feeling when you're wrapped up in a warm blanket with your favorite movie playing—that's the kind of coziness you get from Nonna's Pasta Fagioli Soup.
So, next time winter comes knocking on your door, you'll know exactly what to do. Get your hands on a big ol' bowl of this hearty goodness, and let it warm you up from the inside out. Trust me, it's the ultimate winter treat!
You've probably seen it strutting its stuff in the US like it owns the place. And let me tell ya, it's a thick, hearty stew jam-packed with veggies and loaded with pasta or rice. But hey, in this version, I'm going all-in on heartiness with potatoes and cannellini beans – because we want that warm, fuzzy feeling!
Now, here's the cool part. To get that smooth, velvety texture, I've got a sneaky trick up my sleeve. I blend up some of those mighty beans with some broth, and bam! That's the secret sauce, my friends.
But wait, there's more to this flavor party! Right at the start, we bring in the pancetta to deliver that punch of savory goodness. It's like a flavor explosion, trust me. And don't even think about leaving out the Parmigiano rind – it's the ultimate umami bomb that makes this soup absolutely irresistible.
Get ready to dive into a bowl of pure Italian awesomeness with this Pasta Fagioli Soup! We're talking about a seriously hearty and belly-filling dish that'll make your taste buds do the happy dance. Creamy beans, soft pasta, and some lip-smacking turkey sausage all cozied up in a luscious tomato-based sauce bursting with fresh veggies and herbs. Mamma mia, it's a flavor explosion you won't be able to resist! So grab a big spoon and dig in. Your tummy will thank you, and your mouth will shout, Bellissimo!
Spicy, creamy goodness with a sneaky veggie surprise and delicious Italian sausage, all packed into one bowl of heaven. This recipe is perfect for those cozy nights when you crave comfort food that sticks to your ribs and warms your soul.
It's packed with nutritious goodness from superfoods like kale and squash, making it perfect for the cooler seasons when these veggies are at their best. You can make a complete meal out of it by pairing it with a couple of slices of toasted country-style bread. The bread adds a delightful crunch and makes the whole experience even more satisfying.
If you're looking for a wholesome and tasty soup that takes you on a journey through time and nourishes your body and soul, this Tuscan Bean Soup (Ribollita) is the perfect choice.
Flavorful spicy sausage, tender noodles, and a glorious, melty cheese topping all coming together in one pot to create the ultimate Italian delight. What's even better? This recipe keeps it easy peasy!
Whether you're a busy cook or just craving some comforting flavors, this Lasagna Soup is your ticket to a scrumptious and stress-free meal. So, grab a spoon and get ready to savor the flavors of Italy without breaking a sweat!
When the summer sun shines, and juicy tomatoes are in abundance, this dish truly shines. However, fear not if you're craving it during the off-season! You can still enjoy it by using pureed tomatoes instead. The best part is, the method is simple and stays the same. Start by stewing the tomatoes along with carrots, onion, celery, garlic, and a pinch of red pepper flakes. Pour in plenty of extra virgin olive oil and add some stale bread to the mix. Let everything gently simmer until the bread soaks up all those delightful flavors and becomes part of a delectable mush.
Traditionally, Tuscan bread with no salt is the go-to choice for this recipe, but I must admit, using a good bread like ciabatta elevates the experience. Imagine the crusty texture on the outside and the soft, fluffy goodness inside when it's fresh. It's a taste that'll transport you straight to the heart of Tuscany, and you'll find yourself coming back for more with every spoonful. So, whether it's summer or winter, go ahead and savor this rustic delight that celebrates the magic of tomatoes and bread in harmony!
Who needs to wait for the chilly seasons to enjoy a delicious soup? Not you! Because guess what? This amazing Trentino-Alto Adige recipe is an all-weather winner!
It's super simple and uses easy-to-find, budget-friendly ingredients that won't break the bank. You won't believe how tasty it is, no matter if it's snowing outside or the sun's shining bright! Let's dive into the details of this fantastic recipe.
This comforting dish comes together in a flash, making it perfect for those busy days when you crave something satisfying without spending hours in the kitchen. With its roots in Italy, Pastina soup, known by other names like Minestrina or Pastina In Brodo, stars tiny pasta shapes gently cooked in flavorful chicken broth.
But what truly makes this soup so special is its wholesome, down-to-earth ingredients. You won't find any complicated or fancy elements here—just genuine, simple goodness that's both nourishing for your body and soothing for your soul. No wonder it has earned the playful nickname of "Italian penicillin." Whenever an Italian mom or nonna sees her loved ones feeling under the weather, she's quick to whip up a bowl of this magical soup.
It's a time-honored remedy, cherished for generations, that has the power to make everyone, from the tiniest tots to the grown-ups, feel better and cared for. So, if you ever need a comforting pick-me-up or a way to show someone you care, turn to Pastina soup, the heartwarming elixir straight from Italy's culinary embrace.
Introducing the easiest and tastiest chicken soup you'll ever make! This awesome recipe is not only packed with essential vitamins but also super satisfying and oh-so-delicious! Get ready for a heartwarming bowl of Sicilian Chicken Soup, perfect to enjoy with a lovely salad and some mouthwatering, fresh Italian bread on the side.
Now, let me tell you why this soup is a must-try. First off, it's a breeze to prepare. You don't need to be a master chef to whip it up, and the ingredients are simple and readily available. Just follow the easy steps, and you'll have a steaming pot of goodness in no time!
It's one of the best italian soup recipes that you absolutely have to taste! This delicious soup is made with juicy meatballs that are so tender, they practically melt in your mouth. The broth is bursting with flavor, and it's filled with wholesome ingredients like spinach and pasta.
Whether you prefer cooking on the stove top, using a Crock Pot, or an Instant Pot, this recipe is incredibly easy to make. Trust me, when you're craving a quick and satisfying lunch, nothing beats a warm bowl of Italian Wedding Soup. It's a delightful combination of flavors that will leave you wanting more!
With just a few simple steps, you'll have a hearty and delicious tomato soup ready to be enjoyed by the whole family in under 30 minutes.
This recipe is a lifesaver for those busy nights when time is of the essence. No need to spend hours in the kitchen; this soup comes together quickly and effortlessly. The creamy texture of the soup paired with the vibrant flavors of Italian herbs will envelop your taste buds in a delightful embrace.
It's basically a super tasty way to enjoy your favorite tortellini, and get this – you can either make the tortellini from scratch (if you're feeling fancy) or simply grab some from the store. Either way, trust me, you're gonna love this easy-peasy soup, and it might just become your go-to recipe!
You can totally customize the broth with your favorite herbs and spices to make it even more special.
This soup is like a health-ninja in disguise. Packed with fiber and protein, it's not just tasty, it's also secretly keeping you fit! We've got some turkey sausage links that are sweet and saucy, making friends with chickpeas and tender veggies like carrots and celery. They're all having a party in there, and we're invited!
When you take a whiff of this pot of deliciousness, you'll be hit with the aroma of garlic and Italian seasoning, making your senses dance in delight. And oh, that freshly ground black pepper adds a sassy kick that's just right! Mamma mia, you won't be able to resist!
The lineup of ingredients is a star-studded cast, starting with three strips of thick cut smoky bacon. Yup, we've got bacon in the house! Chop it up and let the Instant Pot work its magic, rendering out all that tasty fat – mmm, bacony goodness.
The potatoes add heartiness, and the kale (or spinach) brings a touch of green goodness. Quick and easy to make, it's comfort food at its best.
You'll have this creamy delight on your table in just 30 minutes, and that's what I call a win for busy weeknights!
The ingredients are chill and friendly, no fancy stuff required. Just grab a can of crushed tomatoes and another of fire-roasted diced tomatoes – they'll set the stage for the tomato party. Then, round up some veggies: a red onion, red and green bell peppers, carrots, and celery. Give 'em a chop and let the sauté dance begin!
It's a family favorite for a reason – comforting, scrumptious, and a guaranteed crowd-pleaser.
This Italian Lentil Soup recipe is a winner in every sense. With a medley of diced veggies, fragrant herbs, and tender lentils, it's an explosion of flavors in every spoonful. The simplicity of the preparation makes it a breeze to cook, while the taste is anything but ordinary.
The tangy crushed tomatoes and a hint of white wine add a delightful twist, and the optional red pepper flakes give it a spicy kick for those daring taste buds. Whether you're craving comfort or just looking for a healthy bowl to savor, this soup has got you covered. Drizzle some olive oil, sprinkle parsley and cheese on top, and get ready to enjoy a warm, comforting hug in a bowl!
Cioppino is a fantastic seafood stew, brimming with a mouthwatering mix of textures and flavors that will leave you craving more. This fantastic cioppino recipe brings together a delightful assortment of clams, mussels, white fish, and shrimp, all swimming happily in a flavorful tomato-fennel broth. And guess what? You won't have to worry about running out of this scrumptious stew during the holidays because our recipe makes a generous batch that'll satisfy all your cravings.
Don't stress if you can't find the exact seafood listed in the recipe; just use whatever fresh catch you have on hand. Cioppino is all about embracing the day's offerings and turning them into something spectacular. So gather your favorite fish or whatever seafood you fancy, and dive into this hearty and comforting dish. Trust me, once you've tasted this cioppino, it'll become a regular feature on your menu, no doubt about it!
You know what's absolutely fantastic for a speedy and comforting weeknight dinner? It's none other than the delightful Italian zucchini stew! This veggie-packed wonder is not only super quick to make but also bursting with incredible flavors.
This mouthwatering stew will be ready in just thirty minutes! So, when you're looking for a delicious and plant-based meal that's both easy to prepare and incredibly satisfying, this Italian zucchini stew should be your go-to option.
If you're in the mood for some delicious Italian flavors that'll warm you right up, look no further than this Spicy Italian Pesto Noodle Soup! Whenever I'm craving Italian food with a twist of heat, this is my ultimate go-to dinner.
Tender and zesty Italian chicken sausage swimming in a flavorful basil pesto broth, alongside vibrant carrots, nutritious kale, and a zing of fresh lemon. But wait, there's more! This fantastic medley gets even better when you add plenty of noodles to the mix, making each spoonful a delightful burst of taste and texture.
Have you ever given pasta e ceci a shot? It's this fantastic Italian stew with pasta and chickpeas, and let me tell you, it's a flavor explosion! The soup is packed with so many delicious tastes, like the richness of bacon, the punch of garlic, the aromatic rosemary, the tangy tomatoes, and a whole lot more.
This recipe is a true classic from Italy, and it's not only tasty but also healthy and filling. So, you won't just be indulging in comfort food; you'll be treating yourself to something nutritious too. And let me tell you, this pasta e ceci recipe is a guaranteed hit! People are gonna love it.
A heartwarming Italian-inspired delight! The fluffy gnocchi, creamy broth, and flavorful veggies make this soup a winner. Easy to whip up and impossible to resist. Perfect for those cozy nights in!
Packed with loads of tasty veggies, flavorful ground turkey, and oh-so-cheesy ravioli, this soup is a real winner. You won't have to spend hours slaving away in the kitchen because it all comes together in just one pot! Yep, you heard that right – quick and easy!
In less than 30 minutes, you'll be slurping up this goodness. The creamy texture and amazing blend of flavors will have you coming back for seconds, guaranteed!
Perfect for those chilly days! This delightful bowl of comfort is packed with a bunch of tasty veggies, like carrots, tomatoes, celery, onion, and loads of spinach. But that's not all – we've got some orzo in there to add a fantastic texture to the mix. And the real magic happens with the generous sprinkle of yummy Italian herbs that bring all these flavors together.
This soup is the real deal! Trust me, when the next wave of cold days rolls in, this Italian orzo soup will be your go-to recipe.
Have you ever noticed how different escarole tastes when it's in a salad compared to when it's simmered in a comforting soup? When raw, escarole offers a satisfying crunch with a mild and slightly sweet flavor. But the magic happens when it takes a dip in some flavorful broth. The escarole transforms, releasing a delightful bitterness that enhances the entire soup.
This italian soup is a breeze to whip up, making it a perfect choice for a satisfying dinner, especially when paired with a crusty piece of bread to dunk in.
This isn't your typical all-day-cooking deal. Nope, it's a quick and simple recipe that doesn't compromise on taste. The soup is luxuriously creamy, thanks to the beans, and the sausage adds a savory punch that'll leave you wanting more.
It's seriously savory, oh-so-comforting, and packed with nutritious goodness – talk about a winning combo! Whether you're kickstarting the new year with some good luck from this dish or simply craving a heartwarming meal to beat the winter chill, this classic Italian recipe has got your back!
30 Italian Soup Recipes for Authentic Flavors and Cozy Comfort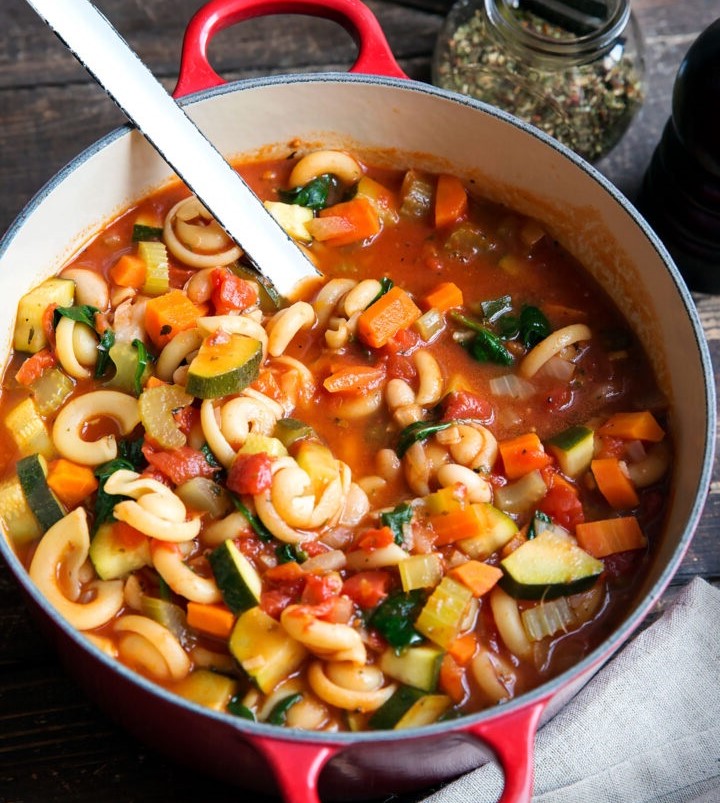 These easy and delicious italian soup recipes are not just for warming up your tummy before the main course – oh no! They're so hearty and satisfying that they can totally steal the spotlight as a meal on their own.
Ingredients
1. Minestrone
2. Italian Sausage & Orzo Soup
3. Tuscan Soup (White Bean Soup)
4. Nonna's Pasta Fagioli Soup
5. Giada De Laurentiis' Classic Minestrone Soup
6. Italian Pasta Fagioli Soup
7. Sausage and Tortellini Soup
8. Classic Ribollita by 31Daily.com
9. Lasagna Soup by Barefeet in the kitchen
10. Pappa Al Pomodoro ny Eating Around Italy
11. Barley Soup: La Minestra d'Orzo from Trentino
12. Pastina Soup
13. Sicilian Chicken Soup
14. Italian Wedding Soup by The Cozy Cook
15. Creamy Italian Tomato Soup
16. Tortellini en Brodo
17. Italian Sausage and Quinoa Soup
18. Instant Pot Zuppa Toscana
19. Tomato Bisque Soup
20. Italian Lentil Soup
21. Cioppino (Seafood Stew)
22. Italian Zucchini Stew
23. Spicy Italian Pesto Noodle Soup
24. Italian Pasta and Chickpea Stew
25. Tuscan Chicken Gnocchi Soup
26. Hearty & Filling Creamy Ravioli Soup Recipe
27. Italian Orzo Soup
28. Italian Escarole Soup
29. Creamy Bean Soup with Sausage
30. Easy Italian Beans and Greens with Escarole
Instructions
Select your favorite recipe and click the link to open the recipe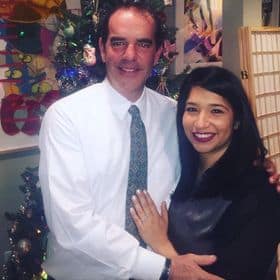 Welcome to Mariasskitchen.com! I'm Maria Tarrant, the proud owner and passionate curator of this website. As an avid lover of all things dessert, baking, and traveling, I've combined my passions to create a platform where I can share my culinary adventures and inspirations with you. From decadent cakes to scrumptious cookies, this website is a haven for dessert enthusiasts looking to explore the sweet side of life.
Join me on this delectable journey as I whip up mouthwatering recipes, offer baking tips and tricks, and take you along on my exciting travel escapades, discovering flavors from around the world. MariasSkitchen.com is a place where I pour my heart and soul into each post, hoping to ignite your own culinary passions and create unforgettable memories. So, grab a spoon, pack your bags, and let's embark on this extraordinary adventure together!