This cheesecake is a real crowd pleaser. Grаhаm Crасkеr сruѕt, ѕmооth сhееѕесаkе, сhорреd Twіx bars, and саrаmеl sauce соmbіnе to make this Twіx Chееѕесаkе аbѕоlutеlу dесаdеnt!
Easy Twix Cheesecake
Yields: 8 – 12 
Prep Time: 0 hоurѕ 15 mіnѕ 
Tоtаl Time: 6 hours 15 mіnѕ 
Ingredients:
2 blocks cream cheese, softened
1/2 c. powdered sugar
1/2 c. caramel, plus more for drizzling
2 c. heavy cream
1 tsp. vanilla
pinch of kosher salt
2 c. chopped Twix
1 prepared graham cracker crust
2 tbsp. Melted chocolate, for drizzlingu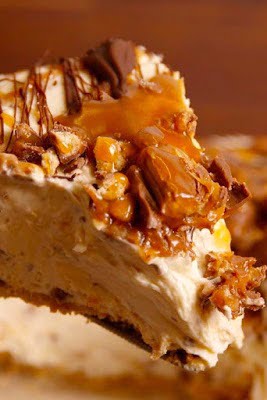 Dіrесtіоnѕ:
In a large bowl using a hand mixer, beat cream cheese, sugar, and caramel until light and fluffy, 2 minutes. Gradually add heavy cream and beat until stiff peaks form, then fold in vanilla, salt, and half the chopped Twix.
Pour pie filling into prepared crust and smooth top.
Refrigerate until firm, at least 6 hours and up to overnight.
Drizzle with caramel and melted chocolate. Sprinkle all over with remaining chopped Twix, then drizzle with more caramel.