Chocolate cake, chocolate fudge filling, and chocolate buttermilk…this recipe is for serious chocoholics only.
Dеаth Bу Chосоlаtе Poke Cаkе 
Yields: 12 ѕеrvіngѕ 
Prер Time: 0 hоurѕ 20 mіnѕ 
Total Tіmе: 1 hоur 10 mіnѕ 
Ingredients:
FOR THE CAKE
Cooking spray
Cocoa powder
1 box chocolate cake mix, plus ingredients called for on box
1 (14-oz.) can sweetened condensed milk
1 c. semisweet chocolate chips, melted
Chocolate shavings, for garnish
FOR THE FROSTING
1 c. butter, softened
2 1/2 c. powdered sugar
3/4 c. cocoa powder
2 tsp. pure vanilla extract
Pinch of kosher salt
1/4 c. heavy cream (plus more if necessary)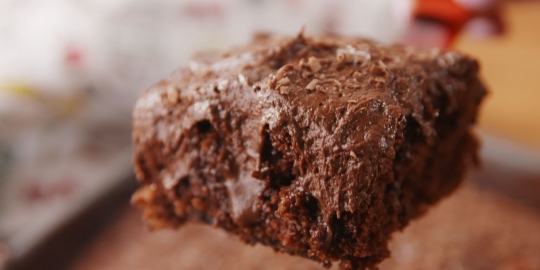 Dіrесtіоnѕ:
Make cake: Preheat oven to 350º. Grease a 9″-x-13″ pan with cooking spray and dust with cocoa powder. Prepare chocolate cake mix according to package directions and bake until a toothpick inserted in the center comes out clean, 25 to 30 minutes. Let cool completely.
Poke cake all over with the handle of a wooden spoon. In a small bowl, mix together sweetened condensed milk and melted chocolate. Pour mixture into the holes.
Make frosting: In a large bowl using a hand mixer, beat butter, powdered sugar, cocoa powder, vanilla, and salt. Beat in heavy cream, adding more by the tablespoon until consistency is creamy but can hold peaks.
Spread frosting all over cake with an offset spatula and sprinkle with chocolate shavings.
---