When you make this cake, the kids will love it so much that they will willingly hand over their Reese's Peanut Butter Cups to you. This cake is customizable to your preferences, and you can use any candy of your choice. The recipe creator used a mix of peanut butter cups and Butterfingers to add a bit of crunchiness to the cake.
The cream cheese layer is a standout element of this cake. It is infused with the rich and savory flavor of peanut butter, making it a perfect complement to the chocolate and candy layers. The cake is finished off with more chocolate, which adds an extra layer of indulgence.
Overall, this cake is a delicious treat that will satisfy any sweet tooth. Its decadent layers of cream cheese, chocolate, and candy will make it a hit with kids and adults alike.
Chocolate Peanut Butter Ooey Gooey Butter Cake
Ingredients:
Cake:
1 German Chocolate Cake Mix
1/2 cup butter – melted
1 egg
2nd Layer
8 Peanut Butter Cups – large one
3 small Butterfinger Candy Bars
Cream Cheese Layer
1 (8-ounce) package cream cheese, softened
1 cup peanut butter
3 eggs
1 teaspoon vanilla
1/2 cup butter, melted
4 cups confectionery sugar
Chocolate topping:
1/2 cup chocolate chips
1 tablespoon vegetable or canola oil
Directions:
Preheat oven to 350 degrees, 325 degrees if using a glass pan.
Combine the cake mix, egg and butter together. Beat until it is combined. Spray a 9 x 12 pan with cooking spray and then put the cake mix layer over the bottom. Pat it down.
Cut the large peanut butter cups into 4 pieces. Roughly chop the Butterfingers. Spread evenly over the cake layer.
Combine the cream cheese, vanilla and peanut butter together until combined. Add the eggs one at a time and mix them in. Add the butter. When this is all combined together add the confectionery sugar. Spread evenly over the candy bar layer.
Bake for about 50 minutes. I used a glass pan and it took just over an hour. The mixture will be puffed up in the center when done. It will jiggly just slightly. Remove from oven and let cool.
Melt the chocolate for 1 minute in the microwave. Add the oil. Stir until combined. Spread over the top of the cream cheese layer.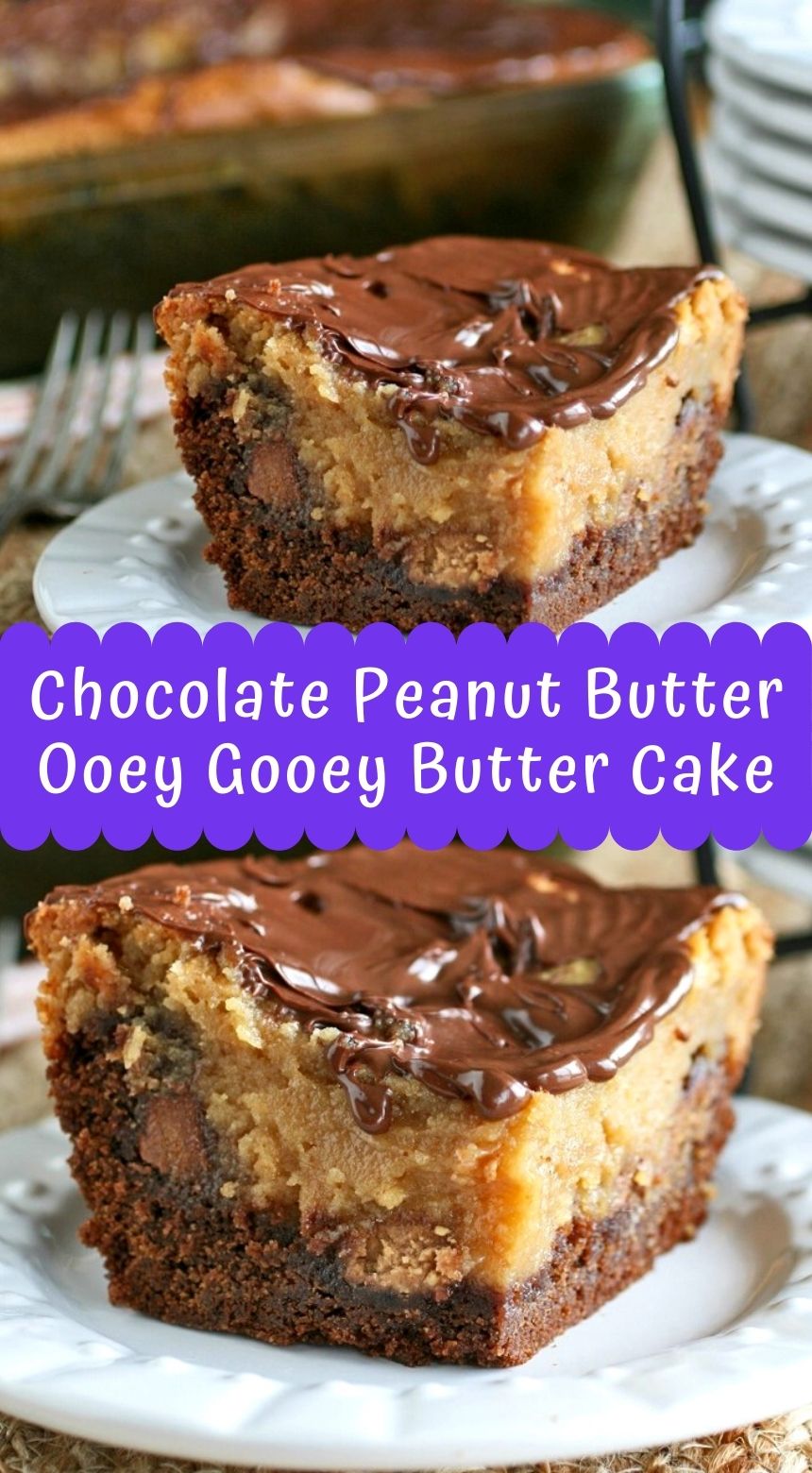 ---