Red Wine Poke Cake
FOR CAKE
Cooking spray, for pan
1 box chocolate cake mix, plus ingredients called for on box
1/4 c. cocoa powder
FOR RED WINE SYRUP
2 1/2 c. red wine
1/2 c. water
1 c. sugar
1/3 c. whipped topping
FOR GANACHE
1/2 c. heavy cream
1/2 c. red wine
1/3 c. sugar
2 c. semisweet chocolate chips
Pinch kosher salt
1/4 c. chocolate curls, for garnish
Directions:
Preheat oven to 350º. Grease a 9″-x-13" pan with cooking spray and dust with cocoa powder. Prepare cake mix according to package instructions. Pour batter into prepared pan and bake until a toothpick comes out clean, about 25 minutes. Place on cooling rack.
In small sauce pan over medium heat, whisk together wine, water, and sugar. Bring mixture to a boil, then reduce to a simmer and cook until syrupy in consistency, 35 minutes. Remove from heat and let cool for 10 minutes, then fold in whipped topping.
Using the bottom of a wooden spoon, poke holes all over cake. Pour red wine filling into poked holes and spread with a spatula. Refrigerate while making ganache.
Make ganache: Place chocolate chips in a large, heatproof bowl. In a small saucepan over medium heat, whisk together cream, wine, and sugar over medium heat. Bring to a simmer and let reduce slightly, 6 to 7 minutes. Pour over chocolate chips and let sit undisturbed, 5 minutes, before whisking together until smooth. Pour over cake and smooth with a spatula. Garnish with chocolate curls and return to refrigerator to set ganache, 20 to 25 minutes. Slice into squares and serve.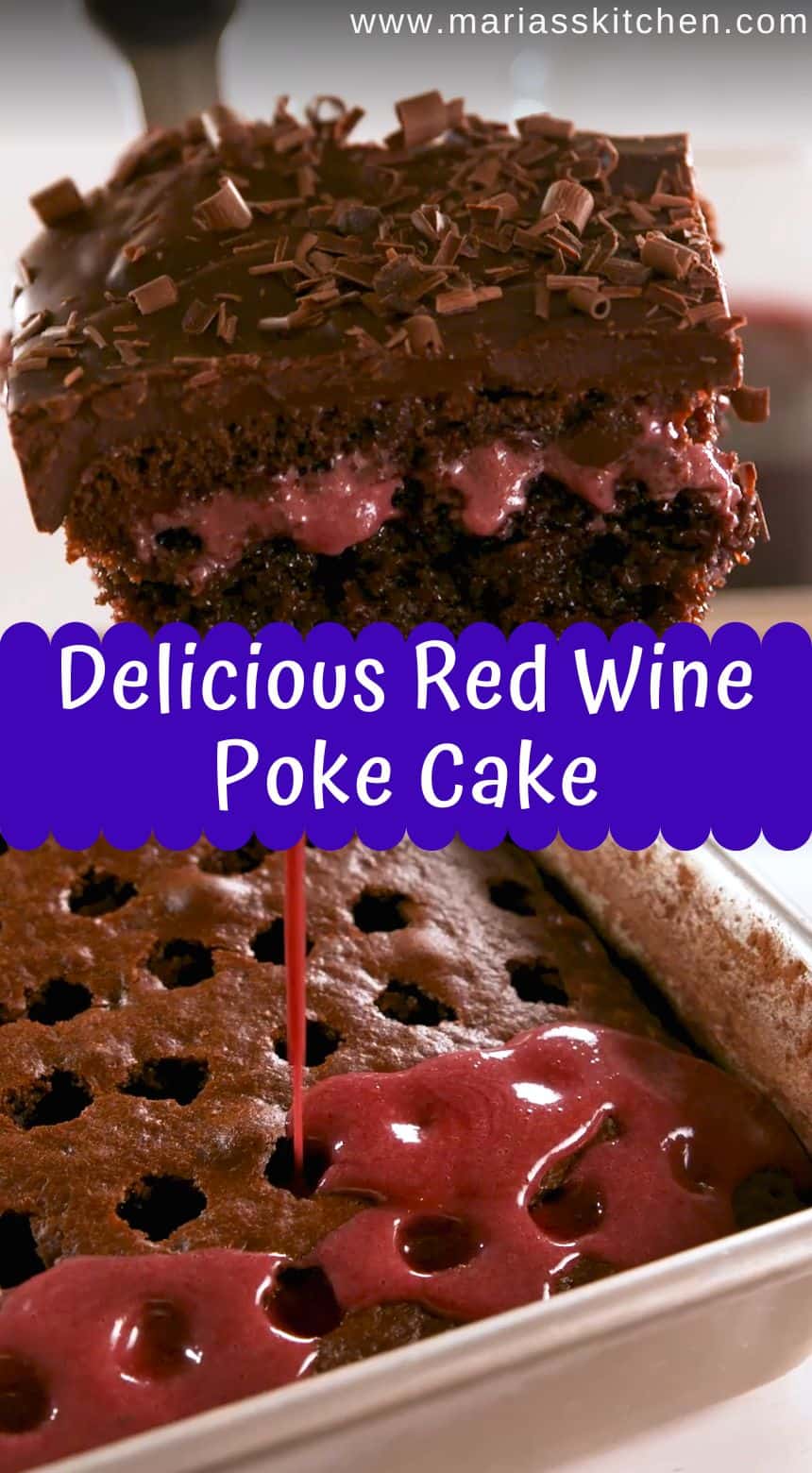 ---