A delicious dessert for all chocoholics. Simply white and milk chocolate combined and we have an irresistible dessert! Especially on hot days no one likes to stand long in the kitchen and certainly not turn on the oven. These slices are very easy to prepare and on top of that, no baking is required. Try them out for yourself. 🙂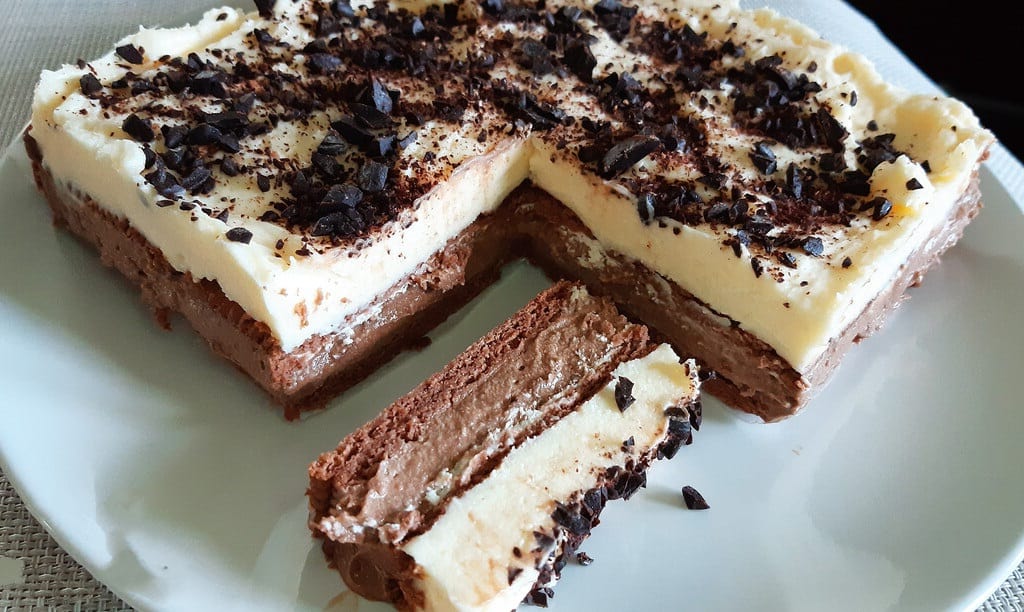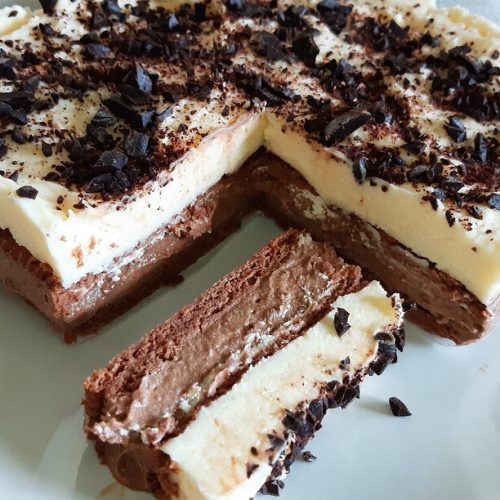 Print Recipe
No Bake Double Chocolate Milk Cake
Ingredients
3 pck. Vanilla flavored pudding powder

6 TBSP. Sugar

200 ml + 800 ml milk

100 g white chocolate

150 g Milka alpine milk chocolate

250 g Butter

150 g Powdered sugar

40 g Whipped cream

80 ml milk

250 g Cocoa cookies

Chocolate for decorating
Instructions
Heat 800 ml of milk in a saucepan. Mix sugar and pudding powder with 200 ml milk and stir into the hot milk. Cook a thick pudding. Divide the hot pudding in half. Melt the white chocolate in one half and the milk chocolate in the other. Leave to cool.

Mix butter with powdered sugar until smooth. Mix one half of the butter into the light and dark pudding mixture.

Add milk and cream to a bowl. Beat with a hand mixer until fluffy.

Dip cookies in milk and double line the bottom of a baking pan (21 x 21 cm) lined with parchment paper. Spread the dark cream over the cookies. Spread the whipped cream on top and cover with cookies again. Then spread the light cream on top and smooth. Decorate with chocolate sprinkles and let it set in the refrigerator. Enjoy your meal!