A juicy poppy seed cake with shortcrust pastry. A crispy dough and in the middle homemade poppy seed mixture. Delicious, classic and simple.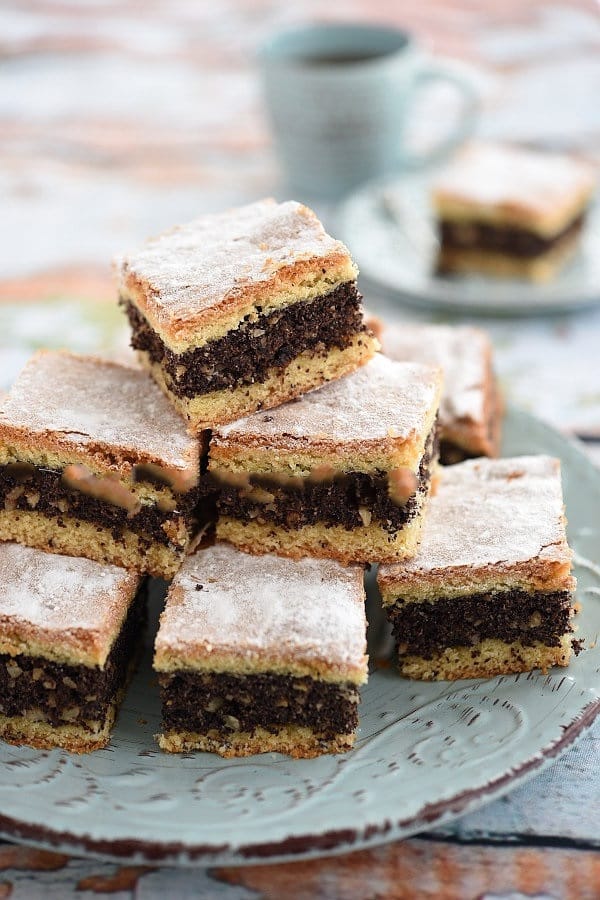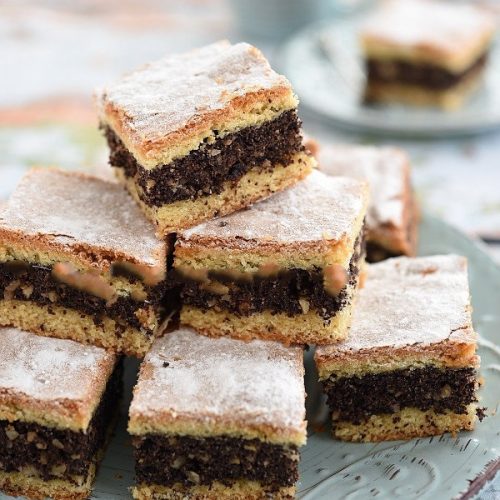 Print Recipe
German Poppy Seed Cake
Ingredients
For the shortcrust pastry:
500 g wheat flour

6 egg yolks

200 g powdered sugar

250 g butter (or margarine)

2 tsp. baking powder

a little sour cream (in case the dough becomes too dry)
For the poppy seed mixture:
300 g poppy seeds, ground or whole

5 eggs

120 g powdered sugar

1 tablespoon cocoa

200 g mixture of chopped dried fruits and chopped nuts (for me: almonds, nuts, raisins, candied orange peel)

1 tsp. baking powder

a few drops of almond flavor (optional)
other ingredient:
Powdered sugar for dusting
Instructions
Put the poppy seeds in a pot, cover with boiling water, cover and leave to swell for at least 30 minutes. Remove the lid from the pot and let the poppy seeds cool.

Prepare the dough. Knead all the ingredients for the dough by hand or with a food processor until smooth. (If the dough gets too dry, add a little sour cream. I added 1 tbsp.). Divide the dough in half and place in the refrigerator wrapped in plastic wrap for about 30- 60 minutes.

Prepare the poppy seed mixture. Drain the poppy seeds on a sieve lined with a kitchen towel, then squeeze them out. (If we took the whole poppy seeds, we will then have to put them through a meat grinder with a fine insert 2 more times).

Beat the egg whites until they are stiff. Continue beating and slowly add the powdered sugar. Fold in the egg yolks, cocoa, chopped nuts and chopped dried fruit, baking powder and baking flavor with a pastry scraper.

Line the bottom of a square baking pan (approx. 35x 24 cm) with baking paper. Press one half of the dough onto the bottom of the pan. Spread the poppy seed mixture on top. Roll out the second half of the dough and place it over the poppy seed mixture. (My tip for rolling out: Roll out the dough on a sheet of baking paper. Turn the baking paper with the dough onto the pan so that the baking paper is on top and then peel off the baking paper).

Bake in a preheated oven at 180°C (top/bottom heat) for about 45 minutes until the dough takes on color. Let cool and then dust with powdered sugar.