Honestly… you can always find a good reason to drink a glass of eggnog, right? Whether at Easter, or at Christmas, or simply because you just feel like it. But hardly anything tastes better than cake with eggnog. Whether a simple eggnog cake or this eggnog stracciatella sheet cake with creamy topping. Eggnog and cake, that's always been a really great combination. Combined with an extra portion of chocolate, it becomes a sheet cake, quickly made and ideal for every day.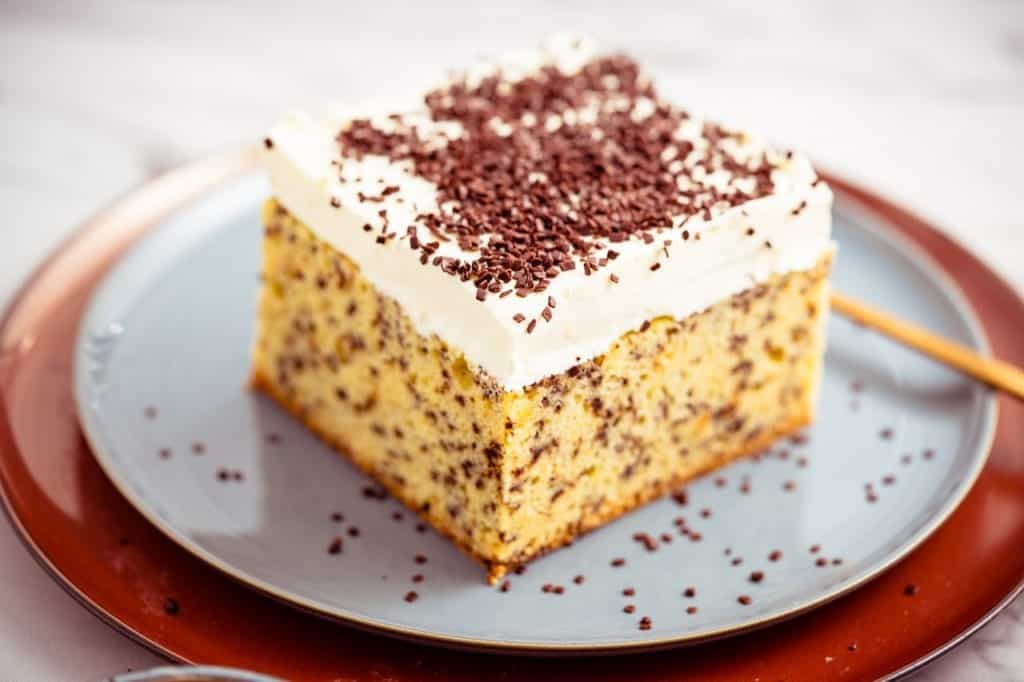 Quick and Delicious Stracciatella Sheet Cake
Ingredients – Dough:
200 g butter
250 g sugar
4 eggs
150 g eggnog
100 g cream
1 pck. custard powder vanilla
400 g wheat or spelt flour
1 pck. baking powder
1-2 pck. chocolate sprinkles
Ingredients – Cream:
250 ml cream
125 ml creme fraiche
1 cream stiffener
Optional: a little sugar to sweeten
chocolate sprinkles for sprinkling
Directions – Dough:
Preheat the oven to 175°C top/bottom heat and line a large baking dish with baking paper.
Now beat the butter and sugar until white and fluffy.
Then add the eggs one by one.
Now add the remaining ingredients and mix everything briefly but vigorously.
Finally, fold in the chocolate chips by hand.
Pour the batter into the baking dish and bake for about 45 minutes.
Directions – Cream:
Put the cream, the crème fraîche and the cream stiffener in a bowl and whip until stiff.
Spread this cream on the cooled cake and smooth it down.
Finally, sprinkle with the crumbles and enjoy.
Eggnog Stracciatella Sheet Cake – It doesn't get much more uncomplicated than this.
---