What would a cozy, spontaneous meeting with friends be if you didn't have the right pastry to go with it? If there is not much time to prepare, there are only 2 options: Dash off to the supermarket and get one of those inedible, pre-packaged cakes. Option two… you bake yourself
Vanilla Raspberry Sheet Cake – the finest pastry for coffee
What makes this cake so special is that they are so simple and uncomplicated to make that it's hard to imagine, just reading the recipe, how incredibly delicious these little happiness makers are.
Loose, fluffy, juicy and just big enough to fit exactly one piece in our mouths and still "reserve" one per hand, so that you still get enough when everyone takes..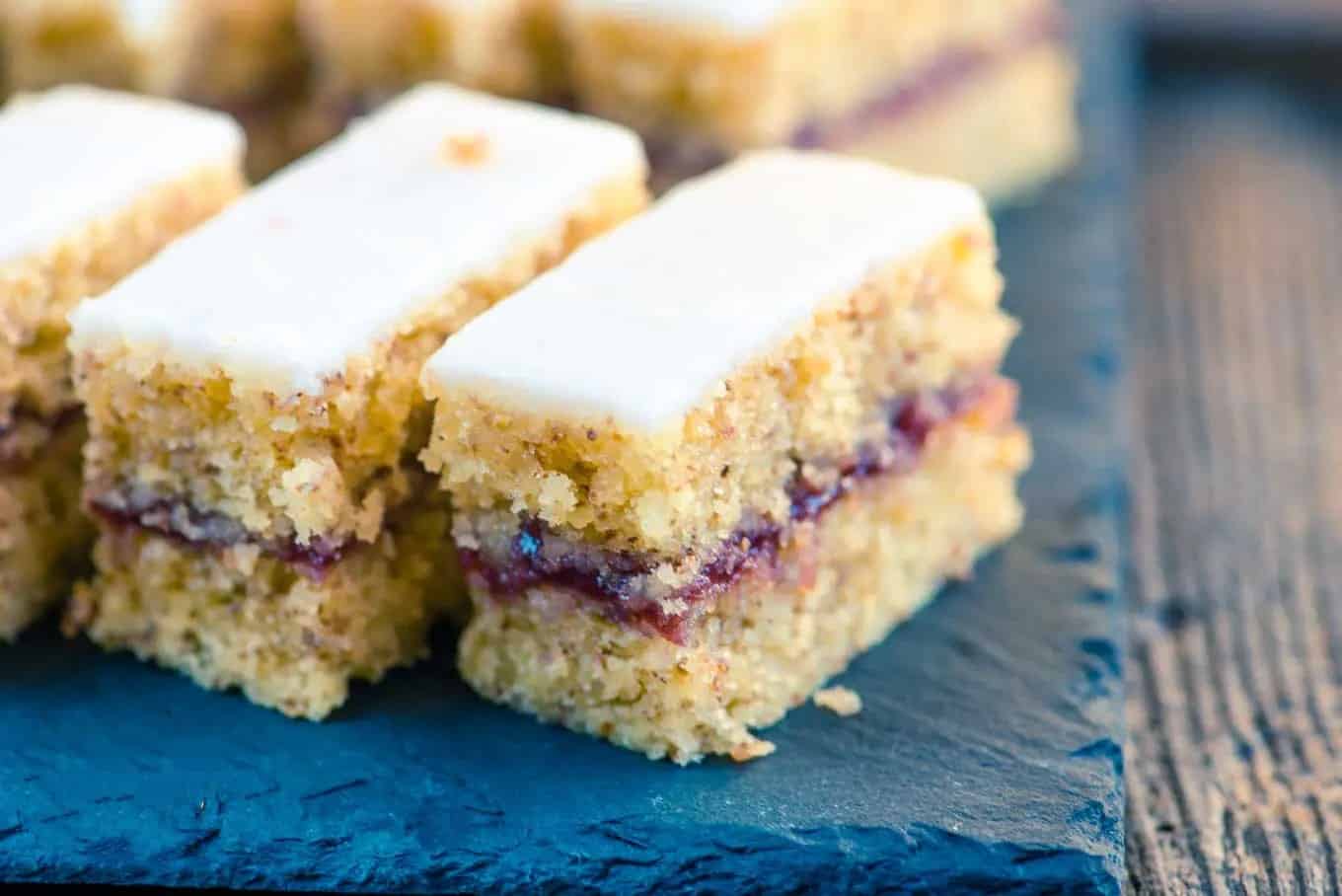 Vanilla Raspberry Sheet Cake
Ingredients:
150g butter
150g sugar
1 pck. vanilla sugar
50g flour
4 yolks
1 strich. tsp. baking powder
150g grated nuts
4 egg whites
1 pinch of salt
250g raspberry jam
250g powdered sugar
4 tablespoons lemon juice
1-2 tablespoons warm water
Directions:
Preheat the oven to 170°C top/bottom heat.
Cream the butter and gradually add the sugar, vanilla sugar and egg yolks until everything has become a fluffy mass.
Mix the flour, nuts and baking powder.
Beat the egg whites until fluffy.
Fold the beaten egg whites and the flour mixture alternately into the butter mixture by hand with a whisk.
Spread the batter on a baking sheet lined with parchment paper and bake for 25 to 30 minutes until golden brown.
Divide the finished cake into 2 equal halves. Warm the jam and spread it on one half, then put the second half on top of the first.
Now mix a lemon glaze from 250g sifted powdered sugar, the lemon juice and a spoonful of warm water for the time being. It should be viscous. If it is too solid, add a second tablespoon.
Spread the glaze evenly on the cake and let it set.
Finally, cut small slices about 3 by 5cm and enjoy.
---