These Sheet Pan Oatmeal Butterscotch Bars are soft, chewy and so delicious. These easy cookie bars only take a few minutes to throw together and are perfect for feeding a crowd.
Growing up, our mom made cookies whenever it was a rainy day. Her Oatmeal Scotchies recipe was one of my absolute favorite treats.
There was nothing better coming home from school on a cold day to a warm Oatmeal Scotchie.
We've had a lot of rainy weather lately, and I was craving some of her delicious oatmeal butterscotch cookies.
I was short on time, so rather than making individual cookies, I made them into bars! I tweaked her original recipe so they could be made in a sheet pan and the taste brought me right back to my childhood.
These Oatmeal Butterscotch Cookie Bars are perfectly soft and chewy. My kids loved them just as much as I loved my mom's cookies growing up. These Cookie Bars are even easier to make than cookies because you don't have to roll out the dough into balls or wait and switch out batches of cookies from the oven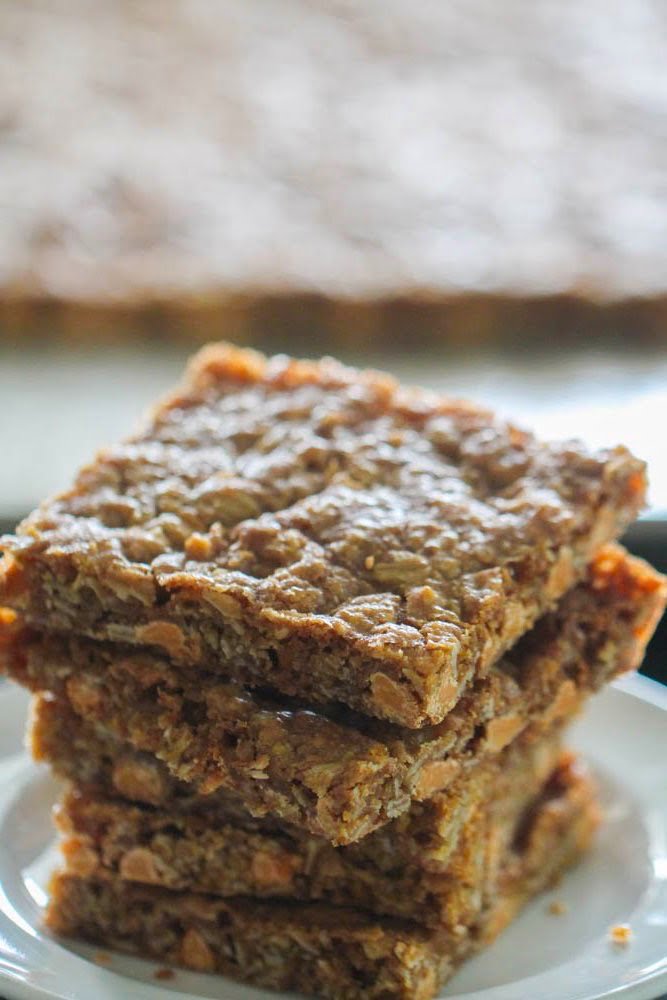 Shееt Pаn Oаtmеаl Butterscotch Cооkіе Bаrѕ 
10 min Prep Tіmе  
22 mіn Cооk Tіmе  
32 mіn Tоtаl Tіmе  
Ingredients:
1 cup buttеr (ѕоftеnеd)
1 сuр brоwn ѕugаr
3/4 сuр ѕugаr
2 еggѕ
1 tеаѕрооn vаnіllа еxtrасt
1/2 tеаѕрооn сіnnаmоn
1/2 teaspoon ѕаlt
1 tеаѕрооn bаkіng ѕоdа
1 1/2 сuрѕ flоur
3 cups оld fаѕhіоnеd оаtѕ
2 сuрѕ buttеrѕсоtсh сhірѕ
Directions:
Preheat oven to 350 degrees F.
In a large bowl, cream together butter, brown sugar and sugar until fluffy.
Add eggs and vanilla and mix until combined.
Mix in cinnamon, salt, baking soda, flour and oatmeal and mix until well combined.
Fold in butterscotch chips.
Spray a half baking sheet (18″x13″x1″) with nonstick cooking spray and spread dough in pan.
Dough will be sticky, so use a rubber spatula and spread as evenly as possible.
Bake for 20-22 minutes, or until the edges are golden brown.
Let cool and cut into bars.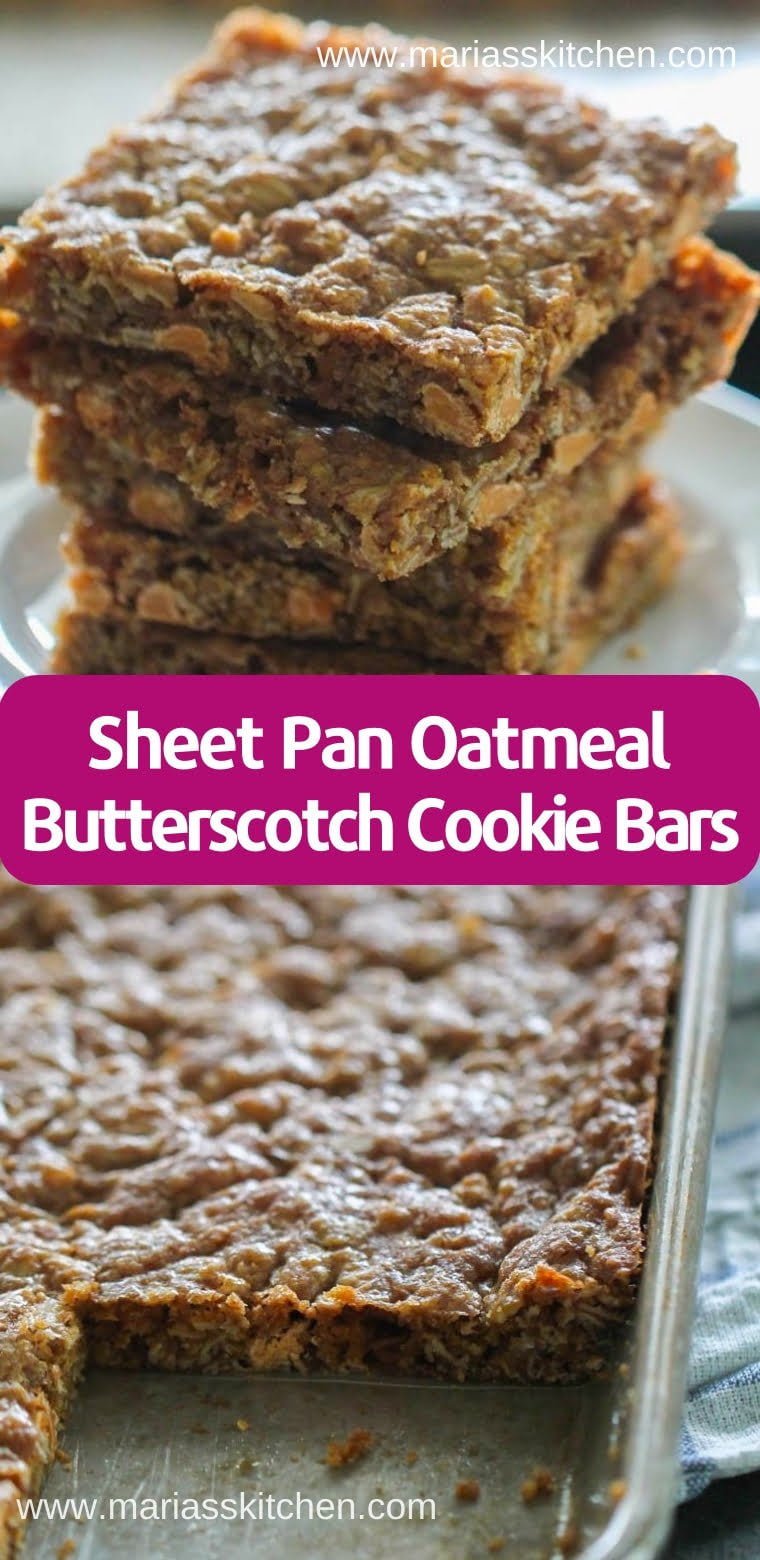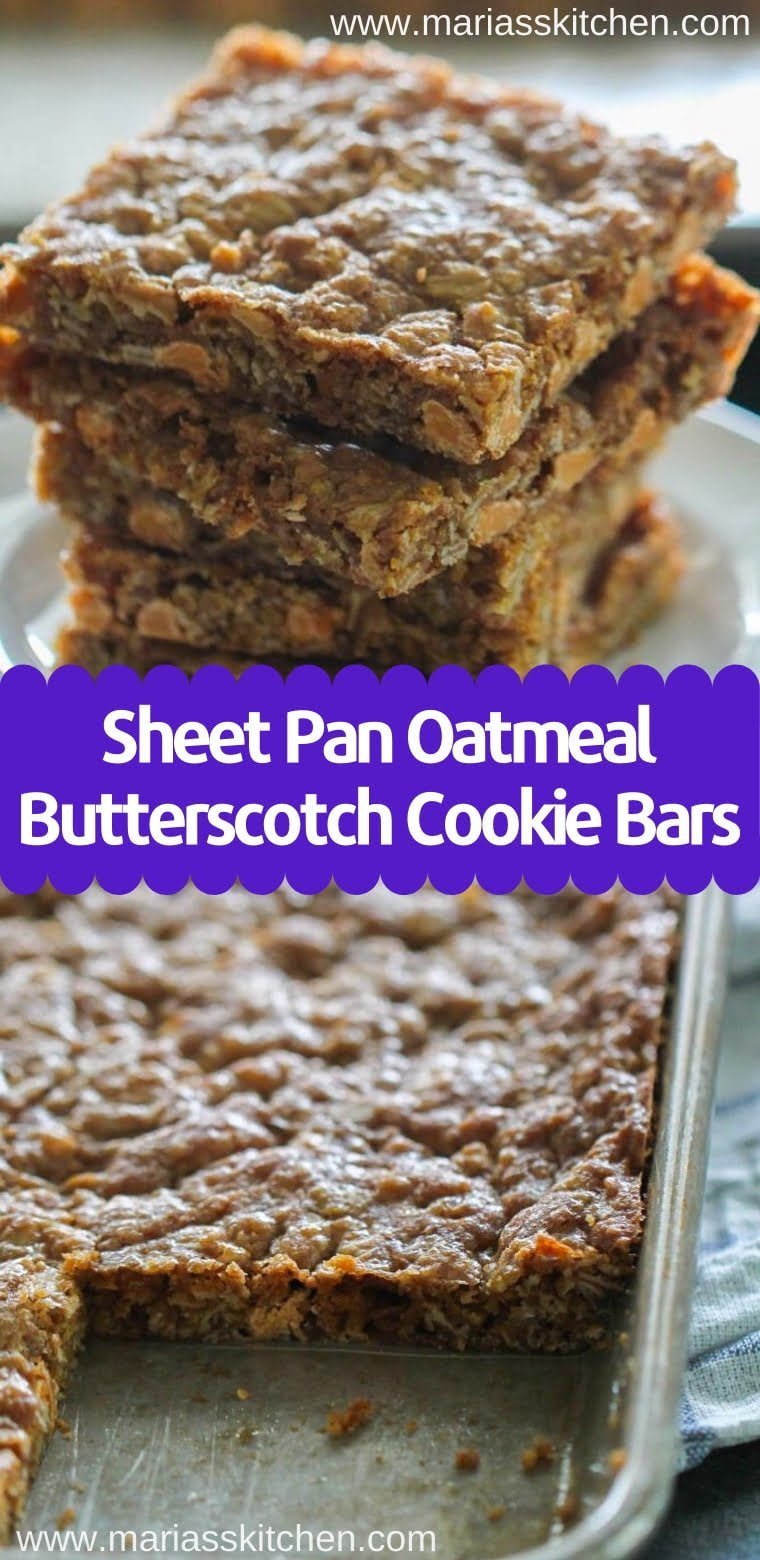 ---